Welcome to:
Mayberry Interactive!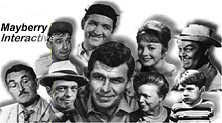 Welcome to Mayberry Interactive.
iMayberry.com has teamed up with TAGSRWC.com to bring you this interactive version of Mayberry. You can send postcards using Goobers Greetings and you can fix supper by visiting Emma's Cookbook (which you can also add your on 'fixins' to if you've a mind to).
The "blue bar" at the top can be use to help you get around Mayberry Interactive's web site. The "menu" frame on the right of the page can get you ANYWHERE on the site. Or if you don't like frames, you can click here and close the menu frame and travel around using just the menu. If you click here you'll see what I mean. Hopefully, you won't have any trouble getting around.