---

By Trisha Kern (a.k.a. Emma at Sarah's Chatroom)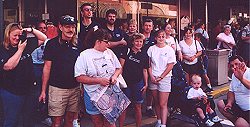 Emma and the gang at the Mayberry Days Parade
The best part of my Mayberry Days memories is getting to see the friends I've made right here on-line. The people who have become like family to me. They've got to be the nicest people in the world. I love each and every one of them.
I've loved the Andy Griffith Show as long as I can remember and I've lived a couple of hours away from Mt. Airy all my life but never knew about Mayberry Days till I got on the internet and found these great Andy Griffith sites and met all the wonderful people who get together here from all over the country. Coming to Mayberry Days this year was like coming to a family reunion.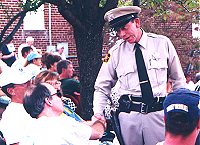 Mayberry Deputy David Browning works the crowd.
And what a thrill it is to be entertained on the sidewalks of "Mayberry" by Barney Fife and Floyd Lawson and Ernest T. Bass. They are the ones who give a Mayberry flavor to the whole weekend. It's a heartwarming experience to see how everybody loves getting a ticket from Barney and watching Floyd wave his scissors around and being serenaded by Ernest T. Bless their hearts..they're everywhere..making people happy.
I sat by an older gentleman at the talent show who was a Mt. Airy resident..very distinguished looking and sort of on the serious side. He said he'd never been to any TAGS event, never participated in Mayberry Days before but decided to come down and see what all the "fuss" was about. It was such fun to see him laughing out loud at Barney, Floyd, Ernest T., and Elvis. His serious side melted plumb away and he was having a great time. It was a good thing to see.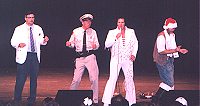 Floyd, Barney, Elvis and a elf named Ernest T. Bass "rock" the fans at Col. Tim's Talent Time.
Some of the highlights for me were the VW Boys on Thursday night, being with my friends at the Best Western and having a couple of get-togethers out by the pool (and a surprise birthday party), having a pork chop sandwich from Snappy's, getting to hear the Dillards in concert, taking a leisurely stroll late at night on the peaceful streets downtown with a wonderful friend while we waited on our pizza order, having lunch at the Bluebird Diner, relaxing under the shade trees with friends at the Visitor's Center, listening to the live music on the lawn at the Andy Griffith Playhouse, having an early morning breakfast with a dear friend, watching the parade, walking around downtown and visiting with the townspeople in the shops, listening to Neal Brower and watching those seldom scenes, hearing the latest chapter news at the TAGSRWC meeting, the wonderful entertainment of Col. Tim's Talent Show, the great time we had at the bowling tournament, and a wonderful parting breakfast with friends on Sunday morning. One last walk downtown topped off a great Mayberry weekend. I left with a car full of gifts and a heart full of memories.
I can't wait to do it again.
Trish (Emma at Sarah's Partyline)