---

By Jeff Koontz (a.k.a. Opie at Sarah's Chatroom)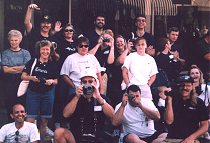 Say "Hey" to the gang on the Internet
Another great weekend at Mayberry Days and after a week I still haven't recovered from all the fun. There was so much going on that is was "go go go" from sun up to way past sundown every day. This was the first year that I spent the entire weekend (and more) in Mt. Airy and it still wasn't enough. This is written with a more personal flair, but I figure we're all family, so I can use first names and if you don't know who they are, then hopefully you will meet them some day and say "Opie sent me." I haven't met a bad TAGS fan and some of the best are part of WBMUTBB. It was nice to meet as many folks as I did that weekend and I look forward to seeing you again next year, if not before.
First, I would like to thank Tanya Rees and her capable staff at the Surry Arts Council for heading up all the events of the weekend. Also, Ann Vaughn at the Mt. Airy Visitor Center for all the help she and her wonderful staff provide to folks that weekend and all during the year. And a big thanks to David "The Mayberry Deputy" Browning, Allan "Floyd" Newsome, and Phil "Ernest T." Lee for all their entertainment during the weekend. These guys work hard from sun up to way past when the sidewalks get rolled up and really make Mayberry Days what it is by sharing their talents with us.
I arrived Thursday morning with hopes to play tennis Ann Vaughn, but (surprise!) she was too busy with all the folks coming in that we rescheduled for a later date. I wanted to help the cause at the Visitor's Center so she sent me around town to post some flyers for them in the store windows. All the people that I talked with were gracious enough to accommodate, so if you saw an orange or blue flyer on a storefront (and it was a little crooked) it was some of my handiwork.
My original plan was to stay with friends in Winston-Salem Thursday night, but Ann called The Mayberry Motor Inn because of a cancellation that she knew of and I was able to be a guest of fellow WBMUTBB members that night - and I thank you for your hospitality.

That afternoon, I went with Emma to the golf course to go star searching - got to see Jim Clark tee off and 'Barney' and 'Floyd' were squiring around Charlene Darling (Maggie Peterson-Mancuso) with the refreshment cart, so we got to visit with them while a few of golf teams passed thru. Maggie was feeling tired (living on Las Vegas time) and asked if she could go back to her room for a nap (that's the plan!). I offered to take her because the guys still had some rounds to make. Emma so graciously rode in the back and we all had a nice visit on the way. It was pretty exciting to drive around a TAGS celebrity (I believe the phrase, "Pinch Me" was used).

Thursday night we had hoped to meet with some internet folks at the Andy Griffith Playhouse, but most people had a long drive up and didn't make it there. Fortunately, we did find Fred and Jennie Boone eating chicken dinner and we were all able to get in to see The VW Boys perform. Very entertaining act of comedy, magic and music. They did a great skit with Barney in a guillotine (unfortunately David lost a contact lens and was half impaired most of the weekend) and really put on a great show. I think everyone else enjoyed seeing them and I hope they make it back to Mayberry Days to perform again. A big thanks to Tanya for letting them entertain us.


TAGSRWC Presiding Goober Jim Clark
Friday morning, I rolled into town and started the day off right - breakfast at Snappy Lunch. While we were waiting Charles Dowell (who runs Snappy's) got a phone call and then handed it to Jim Clark and he did an impromptu radio interview with a Vermont station. I got my biscuit to go, and headed across town to dine in the gardens at the Visitors Center. I met master gardener Jennie, who was setting up for the Mayberry Garden Club Flower Arrangement Contest and helped her for a couple hours. There were some very creative entrees and most all had a Mayberry Theme.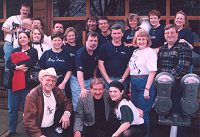 The Gang in Nashville in March '98
The Proclamation was at 11:00 so it was off to hear Mayor Taylor and congregate with friends. We soaked in the speech and musical talent from Elvis and the Mt. Airy High School chorus and then thoughts about Mrs. Wiley's Tea Party came over some of us ("No coffee, tea, or punch, thank you"). I met some other WBMUTBB folks and got to see Sweet Romeena and Ernest T. The planned gathering of Internet friends started at 2p back at the hotel pool - it was great to meet the folks who came in for the first time to join the rest of us and we all had a nice visit. Our Nashville trip photos finally made it back to their rightful owners so I got to see them for the first time and it brought back some good memories from the spring trip.


Jeff confers with MPO and "Myra Koontz" as Barney and gang ask questions.
Next on the schedule was the trivia contest. I missed the opening part, but between MPO and myself, we were able to get 11 of the 27 questions and felt pretty good about our accomplishment. Still have a long way to go to beat the Tullahoma boys from TN, but I thought we did OK. The Doug Dillard Band concert started shortly afterwards, so we got all keyed up for that. Flora was unable to join us this weekend so we turned in her ticket and one of the WBMUTBB friends that I met that day (Keith Brown of "Trivial Trivialities" chapter) was able to get it and sit with us. The sad part was Ginger Boatwright, who normally sings for the band couldn't make it because her husband was in a serious accident. Her replacement was a fellow Alaskan resident who did well, but we missed Ginger and I could sense Doug did as well. It was a great show, but not quite as much spirit as previous ones because of the loss.
Saturday came early, but there was still a lot of adrenaline keeping me going thru the weekend. We made it to our spot for the parade and watched the folks go by. The added theme to MD this year was a BBQ cookoff and The NC Pork Council. There was a 7' tall porkchop in the parade to honor Snappy Lunch, but that was really the highlight - much shorter parade than previous years, even with Santa Claus added to it. That just gave us more time do other things, so we wandered around town to shop, visit, and soak in the sights. We made it down to the Visitor's Center to see some of the memorabilia and and enjoy the gardens, then hunger set in, so we walked back to The Bluebird Diner for lunch. Fred and Jennie and I walked up to the Playhouse to rest in some shade and listen to the bluegrass music. I found Emmett, Martha and Barn and got my rematch in checkers. I had been practicing for a couple months at WBMUTBB and was getting good at beating the computer, so I thought my chances were good this year. I made the game last a good bit longer and actually had him on the ropes at one time, but STILL ended up losing!! To make matters worse, he actually admitted to NOT playing since he beat me LAST year!! hahaha It was really fun to play though and I hope he and I can play many more years and maybe he will let me beat him some day. The most fun was when he accidentally moved my bottlecap and I got to yell, "Emmett Clark, you're a no-good, two-faced, cheatin' liar!!"
I hated to wake Jennie from her nap, but Professor Brower's lecture was almost ready to start and I didn't want to miss it. His topic this year was "Seldom Scenes" and had some bits from the show that usually get cut out. I was fortunate enough to have seen all the bits except for one commercial which was actually filmed with a 16 or 8mm camera filming the TV as it was being broadcast back in the 60's.
Afterwards, Emma and I put stuff in our cars and ran into David Browning just before he finally met up with his family. They were in town all day and most of it was gone before they finally crossed paths. He has such a great family and they all missed their dad after 10 days on the road. We got in line for the TAGSRWC dinner meeting and heard reports from different chapters on what they have done during the year. At least 26 states were represented and folks from Colorado came the furthest (only because Andelina and Hazel from California were not at the meeting). There was a film crew in town making a documentary on "The World's Biggest TAGS fan" and they filmed most of the meeting, along with lots of other events. Hopefully it will be picked up and the rest of the world can see how much fun we have this weekend.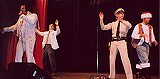 Next on the agenda was Colonel Tim's Talent Time. They tried to go with more professional acts this year and it worked to a point. They did have a couple of local girls perform, but most of the show was a "Legends" night with a Randy Travis look-a-like who read a rather long and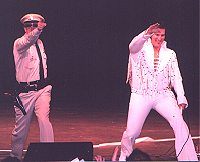 boring poem that dragged on forever. Next was a Marilyn Monroe singer who did a good job, but seemed more out of place than anyone. To top that, she also came out later and did a Christmas tune dressed as Mrs. Claus. (She was reaching on that one - bless her heart). The Patsy Cline singer performed well, but did about 3 songs too many. Elvis took the stage and somewhat salvaged the evening. Very entertaining fellow, down to the scarves and kisses. For me, the best part was Floyd, Barney and Ernest T. They did a great job of backing up Elvis and having fun with everyone and really made for an enjoyable show. They were about 1/2 hr late starting the show, so the bowling tournament was 1/2 hr late starting because we didn't want to miss the annual performance of "Good Ol' 14-A" by Barney and the Choir. That alone is worth the price of admission!
The bowling tournament was a sight. Our group had 2 teams entered and both of them walked away with trophies! One for "Emmett's Style Award" and one for 3rd place for best score with handicap!! "Mary Grace and Her 3 Dates" were selected by Sweet Romeena, Jackie Joseph as best outfits. They all had purple t-shirts and yellow socks and the 3 guys' shirts had TALL on one, DARK on one, and DOORPRIZE on the last one. It was classic!! It was the final planned event of the weekend, but a few of us were too keyed up to go to sleep, despite being so late, so we hung out for awhile longer at the hotel.
The morning came too early, but we all met for breakfast and after the last of the photos, said goodbye to those who had a long trip back home. A few of us went downtown to find only a few stores open and the streets much quieter. It was sad when we all finally parted ways and headed back to reality. Such good people from all over the country brought together over the common love of "The Andy Griffith Show." I still think that if TAGS is our worst vice in life, we're not doing too badly. I'm looking forward to adding new friends at Sarah's and The Porch and hope to meet them "vis a vis" at the next Mayberry Days (celebrating 39 years of TAGS and 10 years of MD).
Jeff Koontz
Raleigh, NC
aka Opie on the net