---

This was, I believe, our 4th trip to Mayberry Days. It was, as expected, a wonderful weekend.
The weather, as always, was perfect (I like it HOT). The people, as always, were friendly. The whole Mayberry atmosphere, as always, was downhome, warm hearted, and comical. Mike and I missed the golf tournament this year but are in hopes of attending next year.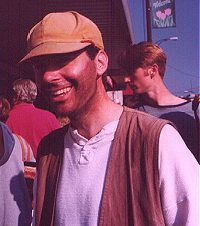 Phil Lee as Ernest T. Bass
We enjoyed the wonderful music at the Dillard concert, however, missed Ginger. Doug Dillard is some kind of banjo player! It was toe tapping, hand clapping music! Colonel Tim's Talent Time was enjoyable too, especially the fiddler from Mt. Airy who played that one song (can't think of the title) and, of course, Melvin. Michael Hoover was great as Elvis and the lady who portrayed Patsy Cline was great too. Allan "Floyd" Newsome, David "Barney" Browning, and Phil "Ernest T." Lee, were so funny on stage with the various performers. It was obvious they were having fun themselves and that made it all the more fun for us.


Melvin performs at Col. Tim's
We went to Mrs. Wiley's Tea Party this year which we had never attended before. That was a hoot, Phil Lee is just SOOOOOO good as Ernest T. It was great seeing Maggie Peterson and Jackie Joseph up close and personal there.
We enjoyed the TAGSRWC meeting too; it is great to see such enthusiasm from some of those very active chapters. What an inspiration they are.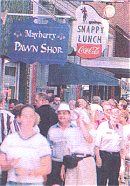 From the news media's presence at all of the events, you could see that there is much interest in the Andy Griffith Show and its fans. We were pleasantly surprised to see in the Winston-Salem Journal Mike's picture (my husband) among the crowd standing in line at the Snappy Lunch. That is a favorite momento we didn't expect!
Over the years since we have been going to Mayberry Days I have seen the Mayberry theme at Mt. Airy grow. I spoke with a few merchants who say it has really gotten "Big" and that it has! From all that I have seen I'm hoping this is something that will last for a very long time and something I look forward to attending for many, many years to come. I can honestly say from the various trips that we have made to many different vacation spots all over the country in our 25 years of marraige, Mt. Airy, North Carolina at Mayberry Days is among the most memorable and anticipated trips of them all. Thanks to everyone who was a part of it!
Shirley Friel