---
MORE THAN A FESTIVAL, IT'S A STATE OF MIND
Copyright (c) 2000, Greensboro News & Record, Inc.
DATE: Sunday, September 3, 2000
BY AMY WOLFFORD
Staff Writer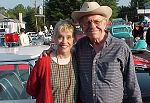 Mayberry Days 2000- Maggie Peterson Mancuso (Charlene Darling) and Doug Dillard (Banjo playing Darling boy) join fans for Mayberry fun at Mayberry Days.
MOUNT AIRY -- When the first Mayberry Days was in its planning stages in 1990, organizers expected a few hundred fans to show up in Andy Griffith's hometown.
"We got more like 1,200," said Brack Llewellyn, artistic director at the sponsoring Surry Arts Council. "That was our first real dose of what meaning this had. We knew after that year it needed to continue."
The annual tribute to "The Andy Griffith Show" - the '60s comedy about a sheriff, his bumbling but lovable deputy and his hometown - is held the last full weekend every September. It's expected to draw between 5,000 and 8,000 people this year, when it's held Sept. 28 through 30 in Mount Airy.
In addition to celebrating the show, the event has turned into a family reunion of sorts - a reunion of people who can't get enough of Andy, Barney, Opie and Thelma Lou.
"I think Mayberry Days is really like coming home for a lot of fans," said Jim Clark, a Greensboro native who serves as "Head Goober" of The Andy Griffith Show Rerun Watchers Club. "It's a chance to see a nice town, a nice chance to visit and it's about The Andy Griffith Show. Who could ask for more?"
Doug Dillard, the banjo-playing Darling brother in the TV show, has strummed old "Andy Griffith" favorites like "Dooley" and "Salty Dog" at all 10 prior festivals. Tickets to this year's evening concert are already sold out.
Organizers are expecting several other celebrities from "The Andy Griffith Show" to attend, including Maggie Peterson Mancuso, who played sister Charlene Darling; Richard O. Linke, who was Griffith's agent; and writer Jack Elinson, who worked on "The New Housekeeper" and "The Manhunt" episodes.
Occasionally, other stars have popped in to Mount Airy for the special weekend. George Lindsey, who played Goober, attended last year's festival as part of a TV Land promotion, becoming the show's biggest star to date to attend.
And several regulars have made appearance at nearby cast shows that coincide with Mayberry Days in Kannapolis, Charlotte and Winston-Salem.
But don't expect to see Griffith. He rarely makes public appearances or returns to Mount Airy.
Many of the events were inspired by the show and the fans. Remember "The Pickle Story" episode, in which Aunt Bee made the awful "kerosene" cucumbers? One contest lets fans guess how many pickles are in the large jar.
There's "Mrs. Wiley's Tea Party," in which a man who sounds and looks a lot like the rock-throwing Ernest T. Bass plays a scene right out of the episode "My Fair Ernest T." Here, he shares cookies and punch with festival-goers, all while trying to hide his wild, mountain ways in a high-society setting.
There's Colonel Tim's Talent Time, a bake sale, bowling tournament, horseshoes, checkers and trivia. Fans can even catch an episode or two in their down time.
"We're trying to offer them the spirit of what Mayberry is," Llewellyn says. "We're not trying to be Mayberry. But here in the place Andy was born, the feeling and spirit he brought to the show is alive and well."
And the weekend's feel reflects one of the most popular Andy Griffith Show episodes of all time, "Man in Hurry." In this show, businessman Malcolm Tucker's car breaks down in Mayberry on Sunday, and there's no one available to fix it. The slow pace frustrates him, but he eventually learns to appreciate the less hectic way of life.
"The world is moving way too fast. People feel they've lost touch with each other," Llewellyn says. "Folks, as they approach middle age, want that back, that feeling they are cared for and provided for and surrounded by love."