---
THE SPIRIT OF MAYBERRY CAN BE FOUND ALL OVER ANDY GRIFFITH'S HOMETOWN
Copyright (c) 2000, Greensboro News & Record, Inc.
DATE: Sunday, September 3, 2000
BY AMY WOLFFORD
Staff Writer
MOUNT AIRY -- The line between Andy Griffith's hometown of Mount Airy and his fictitious television home in Mayberry can be blurry for some fans.
Pieces of this Surry County city slipped into the popular comedy during its 8-year run in the '60s - and so much of Sheriff Andy Taylor's show still can be found in the places and faces around town.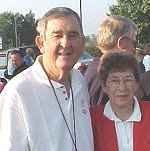 Emmett & Bobbie Forrest
Take Emmett Forrest, for example. Many speculate he was the inspiration for the character Emmett Clark, who ran the Fix-It Shop next door to the sheriff's office. But when you ask him, he just blushes and denies any resemblance. Then, he goes back to talking about how much he admires Griffith, his lifelong friend, and answers questions about his extensive collection of Andy Griffith memorabilia, which is on display at the Mount Airy Visitors Center.
And there's Charles Dowell, who runs the Snappy Lunch on Main Street. His restaurant was mentioned on episode 9, "Andy the Matchmaker.'' His quiet, friendly demeanor and famous pork chop sandwiches have lured in everyone from the city's youngest residents to celebrities like Oprah Winfrey and George Lindsey, who played Goober on the show.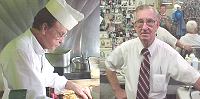 Charles Dowell and Russell Hiatt at to that Mayberry feeling of Mt. Airy.
Next door to the diner, you'll find Russell Hiatt's barber shop. Hiatt loves telling everyone how he cut Andy's hair in the 1950s, and how he renamed his business to match the show some 20 years after the last original episode aired in 1968.
And across town on U.S. 52, the spirit of Mayberry still lives in innkeepers L.P. and Alma Venable. He can be seen driving a 1963 Galaxie, painted just like Sheriff Taylor's. She dresses up like Aunt Bee for the annual Mayberry Days festival and has filled an entire room at their Mayberry Motor Inn with items from the Siler City estate of Frances Bavier, who portrayed the beloved aunt on the show.


Brack Llewellyn, one of the "Mayberry-est" folks you find in Mt. Airy.
Like Mayberry, Mount Airy is filled with warm, friendly people you can't help but love. It's part of the charm that draws tens of thousands of tourists here each year.
Townsfolk, however, are quick to point out the distinct differences between Mount Airy and Mayberry. The sheriff here carries a gun, a 40-caliber Smith and Wesson semi-automatic. His deputies get more than one bullet, and don't have to keep them in their pockets. And problems of any significance usually take more than 30 minutes to solve.
But they like to think Mount Airy's residents reflect that same warm, friendly, caring, relaxed mood that makes people feel so fondly about Mayberry.
"I think you find a lot of the same qualities of life in Mount Airy as you do in Mayberry,'' said Jim Clark, a Greensboro native who now lives in Nashville. Clark serves as "Head Goober'' of The Andy Griffith Show Rerun Watchers Club and is a frequent visitor. "The people in Mount Airy are as nice as we perceive the people in Mayberry to be. The difference is since they are real people. I think of them as friends.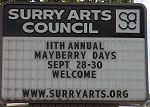 Brack Llewellyn, artist director of the Surry Arts Council and an organizer of the annual Mayberry Days festival, said that although the show is fictitious, he's heard fans tell stories about how it's had an impact on their lives and helped them solve problems, deal with their children or get through some rough times.
"I think they are truly looking for something that gives them comfort and the feeling of belonging you saw in The Andy Griffith Show,'' he said. "But it's more than just a TV show. It's a celebration of a way of life. And the spirit of it's still here. I think that's the thing that doesn't change.''
It's a feeling folks in Griffith's hometown find natural, said Ann Vaughn, executive director of the Mount Airy Visitors Center.
"You can walk down the streets of Mount Airy and feel you've walked right off the set,'' she said. "In today's society with all the crime and awful things, people are trying to seek a simpler way of life. Going back to the time of 'The Andy Griffith Show' is a wonderful escape.''
The childhood friend and collector:
Emmett Forrest couldn't help but smile. Butler, Penn., resident Tom Campbell had just walked into the Mount Airy Visitors Center and declared that after years of searching, he'd finally found his Mecca.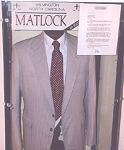 One of the suits Andy actually wore on Matlock
"We were looking on the map for Mayberry. We found Pilot Mountain and we thought it must be close,'' Campbell said as his eyes darted around the room and Forrest's collection of Andy Griffith watches, scripts, music, sausage wrappers and even a seersucker suit worn in "Matlock.''
A "Biography'' show on Andy Griffith led the vacationing Campbell to Mount Airy. "I pulled in and said, 'This is Mayberry, all right.''
The men start chewing over their favorite episodes. Forrest told how he and Griffith were in the same Mount Airy High School class and pointed out some pictures he took over Thanksgiving when he visited his friend at his Manteo home. One photograph, taken in Griffith's garage, shows two pieces of memorabilia Forrest would like to add to his collection.
Hanging on the wall, one sign says "Sheriff,'' the other "Justice of the Peace.'' Sheriff Taylor served in both capacities and sometimes flipped the signs around to point out which job he was working.
"But there's many things I want to add to that collection,'' Forrest said. "When you think you have everything, something else comes up. I'm especially looking for early pictures when he performed at the Plantation Supper Club in Greensboro.''
The "Matlock'' suit is Forrest's favorite piece. "I asked for it, point blank, and he was kind enough to send it to me,'' Forrest said.
Forrest, a retired vice president at Pike Electric, started collecting Griffith items about 15 years ago, after his daughter found a rare Suncrest Orange sign. For years, the stuff stayed in his basement. But when the visitors center moved into a bigger building a few years back, there was room for the world to see the hundreds of items that Forrest had been stashing away.
"It works out great,'' he said. "So many people get to enjoy it here.''
Vaughn is amazed at the memorabilia and its popularity. Nearly 40,000 stopped by the visitors center last year, and about 95 percent said they were there because of "The Andy Griffith Show.''
"Emmett has paid the ultimate tribute to his friend from childhood by collecting everything he can,'' she said.
The visitors center is located at 615 N. Main St. Phone: (336) 786-6856 or (800) 576-0231. Web site: www.visitiMayberry.com.
The town barber: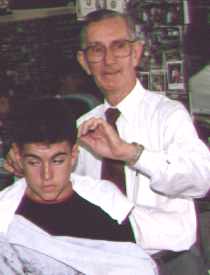 Charlotte resident David Hartsell quietly sits in one of the well-worn chairs inside Floyd's City Barber Shop as Russell Hiatt runs an electric trimmer over his salt-and-pepper locks.
"This is one of the last of the real old barber shops,'' Hartsell said. "That's why I enjoy coming here.''
While giving Hartsell a trim, the extroverted Hiatt throws in a few stories for free. And he never tires of telling people about his most famous customer.
"He was in college when I cut his hair,'' Hiatt said of Griffith as he wiped wisps of hair from his latest customer. "He was just like any other guy, but then he wasn't going to Hollywood or Broadway at that time. I've been asked that a million times.''
In those days, the establishment was known as City Barber Shop. Although a lot of people had joked with Hiatt about his resemblance to Floyd Lawson, Mayberry's chatty town barber, he didn't really think much about it until another star from the show stepped in to say hello.
About 20 years ago, Aneta Corsaut, who played Andy's girlfriend and Opie's teacher Helen Crump, was the first of the show's stars to stop by. Her comments got Hiatt to thinking about the Floyd connection. Soon, he was selling T-shirts and hats with Floyd's logo.
"It wasn't but a short while before everybody started jumping on the bandwagon,'' Hiatt said. But he hadn't decided if he should change the name or not.
"I said maybe. Then one day I came back from lunch and it was painted on the window,'' he said.
Hiatt certainly hasn't minded the comparisons with the Mayberry's carefree clipper. "I can't help what they call me,'' he said. "And sometimes it's hard to convince people that I'm not the real Floyd. But I do enjoy them coming and looking for the real Mayberry.''
Do they find it here?
'Definitely,'' Hiatt said. "We've got the best, friendliest people in the world and a whole lot of the moral values Andy portrayed on the show. They're still here.''
Floyd's City Barber Shop is located at 129 N. Main St. Phone: (336) 786-2346. Haircut: $7. And if you ask, he'll take a Polaroid of you sitting in his barber chair to hang on his wall.
The lunch counter:
That brief mention in an early episode of "The Andy Griffith Show'' and subsequent interviews where Griffith fondly remembers the Snappy Lunch Counter have coaxed many fans to the restaurant.
"This is where they come, because of the show, because of the antiquishness,'' Dowell said as the lunch-time crowd settled in at the counter and in the wooden booths that line the wall.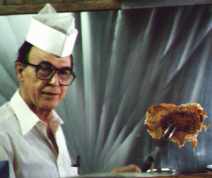 It wasn't that way at first. "At that particular time, occasionally a car would come by from Ohio or Michigan and they'd jump out and take a picture,'' Dowell said.
But 32 years of syndication and videocassette recorders changed all that. The Snappy is now a cult hangout for the show's biggest and most famous fans.
Just remember to arrive early. It's the Snappy Lunch; they don't serve supper here. And the crowds sometimes are large.
"I've had Oprah, 'The Today Show' and the Incredible Hulk,'' Dowell said. "I've been in Gourmet magazine. I had Goober here cooking pork chop sandwiches last Mayberry Days. It's so many, you really forget who they are.''
Dowell credits Griffith, an acquaintance, for getting folks here in the first place. But he knows it's his $2.50 pork chop - coated in an egg batter and served on a bun with chili, slaw, mustard, onions and tomato - that brings them back.
Connoisseurs may balk at the unusual combination of flavors that somehow meld into one huge, sloppy, wonderful treat. It's a taste Dowell has been tinkering for decades.
"It just came from me,'' the town's most famous cook explained. "And it didn't come all at once.''
The first thing he did was lose the bone, making it easier to eat. Eventually, he concocted the sweet batter and began dipping the meat. The other ingredients were added over the years until he finally hit the right mix.
With the sandwich perfected and 72 years behind him, Dowell has contemplated retirement. "I probably could have quit a long time ago if not for the people and seeing the excitement in them,'' he said. "I'm thankful every day.''
The Snappy Lunch is located at 125 N. Main St. It opens at 5:45 a.m. Monday through Saturday and closes at 1:15 p.m. Thursday and Saturday and at 1:45 p.m. the rest of the week. Closed Sunday. Phone: (336) 786-4931.
The innkeepers: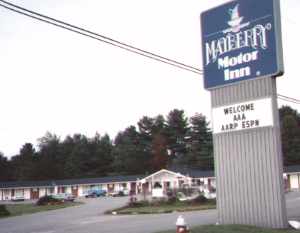 You can't spend the night in the Mayberry Motor Inn's Aunt Bee room, but you can talk Alma Venable into peeking inside.
She and her husband, L.P., have run the motel for the last 30 years. In 1988, they changed the name to match the show's because of the show's popularity.
"We tried to 15 years ago, but we were told we couldn't,'' L.P. Venable said. "Then we figured out how it could be done. And we were already aware of how people liked Andy Griffith and the show.''
The character likenesses, names and "The Andy Griffith Show'' are copyrighted. Mayberry isn't.
The Venables picked up 40 Aunt Bee items at Bavier's estate sale in June 1990, including a bedroom suite, a dress, hat, opera glasses, handkerchiefs and gloves. The treasures are carefully displayed in a room next to the office. Alma Venable occasionally wears the dress, now in fragile condition because of its age. She thinks that's why so many people refer to her as Aunt Bee.
"It's OK,'' she said. "Aunt Bee portrayed a person always doing for others. That would be the connection I'd like.''
Their 28-room motel is booked solid a year in advance for Mayberry Days. The same people return each year.
Guests have included Griffith's agent, Richard O. Linke; the popular men who portray Barney, Floyd and Ernest T. Bass; and Doug Dillard, the banjo-playing Darling brother who has been seen picking late at night inside the gazebo at the Mayberry Motor Inn.
The Mayberry Motor Inn is located on U.S. 52 near the Mayberry Mall. Phone: (336) 786-4109. Web site : www.mayberrymotorinn.com
Other must-see Mayberry places in Mount Airy:
Andy Griffith Homeplace Bed and Breakfast at 711 Haymore St. The actor lived in this simple, two-bedroom home from 1935 to 1966. The interior has been updated to a 1960s retro look and a big stack of videocassette reruns of "The Andy Griffith Show'' have been left for guests to view.
Phone: (336) 789-9569. Web site: www.andyshomeplace.com. Andy Griffith Playhouse at 218 Rockford St. The building formerly housed the Rockford Street School, which Griffith attended in the 1930s. It is thought to be the site of Griffith's first public performance. Its 348-seat theater is now home to stage performances, musical productions and the annual Mayberry Days festival, which take place the last full weekend in September. The lower level houses the Surry Arts Council office.
Phone: (336) 786-7998 or (800) 286-6193. Web site: www.surryarts.org.
Old Mayberry Jail at 215 City Hall St. Free tours are available from 9 a.m. to 5 p.m. Monday through Friday.
Mayberry Specialty Gifts at 140 N. Main St. Owners Jerry Caudle and Harris Greene offer a huge selection of Mayberry memorabilia and other collectibles across the street from Floyd's and the Snappy Lunch. (is 'counter' not officially part of its name? ... NO) In addition to T-shirts, videos, books, cups, doormats and bumper stickers, the store carries one-of-a-kind metal signs, houses, shot glasses and other items related to America's favorite sheriff.
Phone: (336) 789-2260 or (800) 551-7970. Web site: www.mayberrygifts.com.
Caudle says anything Andy is hot these days.
"It's no different than Britney Spears or 'N Sync,'' Caudle said. "Only I think 'The Andy Griffith Show' is going to last a little longer.''