Since 30 September 96


Welcome to "Who's Been Messin' Up the Bulletin Board?".
Official on-line chapter of "The Andy Griffith Show" Rerun Watchers Club.
---
Updated: 9 October 96

Check in with Sarah and sign our Guest Book
You can also read Sarah's Notes
Your Guide to the "WBMUTBB?" web site "Menu" (seen in Frame left).
---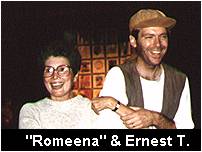 Well, Mayberry Days has come and gone but the memories live on. Here's a 4 page report on some of the highlights along with pictures of some of the fun. Plan on being there next year to experience it in person.
What's

Well, it's not an award exactly but we did get rated #9 out of 100 TV Comedy Show Sites and that's as close as we've ever been to an award. I kind of feel like Barney when he saved Helen and Andy out of that cave.

This is almost the entire Hometown TV Mayberry Collection and it's all online for us to browse. Check at Weaver's before you buy because ole Ben has better prices on items that both carry but The Mayberry Collection offers a lot of things that Weaver's doesn't. Check it out.

Here's your chance to be the first in your area to have the newest Mayberry items! Weaver's has 4 new TAGS t-shirts, 1 brand new cap, and a supply of caps that were thought to be sold out. They'll be in the next issue of "The Bullet" but this is your chance to see 'em first.

Visit Jim & Alice Schwenke's corner of Mayberry and check out "Howard's Notes". Filled with fun information about cast and crew. This is the first installment and I'd like to hear comments.

If you're looking for stories about Mayberry and the people who live there, check here for the latest.

More new Mayberry sound bites can be found on the Mayberry, F.T.P. page.
---
Mayberry News
Russell Hiatt Update.

Russel is the owner of Floyd's City Barber Shop in Mount Airy (Mayberry), NC. And as you know, Russell took a nasty spill a few months back. I saw Russell at the recent Mayberry Days event and I tell you the prayers worked!

Russell was in his shop cutting hair, for a few folks, and talking to everybody during Mayberry Days! He told me, "Some folks have to wait until they pass away to see how many friends they have. With all the cards and phone calls I received, how could I help but get well."

He also said that many of the cards were from the folks here on the internet and he wanted me to thanks each of you for your cards and prayers. Russell is a class act and if you ever have a chance to drop by Floyd's in Mt. Airy be sure to sit in the barber chair and let Russell take a picture of you for his "Wall of Fame". The "Wall of Fame" is covered with photos of folks that have visited Floyd's over the years so if you've been there before take some time to look for your picture. I bet it's there, somewhere.

If you'd like to write to Russell, the address is as follows:

Russell Hiatt
Floyd's City Barber Shop
PO Box 703
Mount Airy, NC 27030

---
Mayberry trivia buff Paul Mulik is collecting "Mayberry mishaps" for his upcoming trivia book. If, while watching reruns of TAGS, you've noticed a contradiction, blooper, or anything else that doesn't seem quite right, please send it to Paul for possible inclusion in his book.

Here is an example:

In "A Black Day for Mayberry," there's a scene in which Barney goes to the hotel and talks with Asa. During that scene, Barney's raincoat goes from completely dry to dripping wet and back again.

Rules for submission:

A) Obey all rules; 2) Don't send anything that you read about in a book or newsletter. They must be things that you've spotted personally; C) If you send in one that gets used, Paul will include your name and address in the book (unless you prefer to remain anonymous.)

Send submissions to:

Paul T. Mulik
633 N Byers Ave
Joplin, MO 64801
or e-mail to paulmulik@aol.com

---
Hoke Howell has been added to the line-up for the autograph show in Dallas on October 27. The lineup now is: Maggie Peterson, Howard Morris, and Hoke. A regular "Mountain Wedding" reunion.
---
"On the Record with Ralph Emery" with Andy Griffith will air in two parts on TNN on November 26 and 27. I believe the time will be 9 p.m. ET. Check local listings.
---
Don Knotts is appearing in Kansas City, MO for a production of You Can't Take It With You through November 10th. Call the New Theater box office for details. (913)649-7469 (Mon-Sat, 9-6)
---
Weaver's reports that several items have sold out recently so if you're wanting to order your favorite t-shirt or video you need to think about it soon. Bert has updated all the items at Weaver's so sizes and availabilitly should be up to date.
[Yahoo] [Lycos] [Alta Vista]
---
Allan Newsome (Anewsome@aol.com)

"Mother Figure" Chapter - Huntsville, AL &

"Who's Been Messin' Up the Bulletin Board?" Chapter - Internet

TAGSRWC