Mayberry Days 1999
Report by Jeff Koontz
Just when you think it can't get any better, Mayberry Days 1999 happens. This year was the best one yet for lots of reasons - weather, scheduling, gorillas, laughs, and more, but mostly because of the friends that come in to celebrate the event. This year marked the 10th anniversary and everyone who has been involved from the beginning never thought it would get a big as it has become. This year I involved in the first Silent Auction to benefit the Surry Arts Council (SAC hosts the weekend), and it was a nice feeling for me to be a part of the fun, as well as take part in the fun.

I extended the weekend by going down on Wednesday. There were plenty of things to do in preparation for the activities at the Mt. Airy Visitors Center (MAVC) and we got lots done before the end of the day. I was fortunate enough to get to see Maggie Peterson-Mancuso (Charlene Darling) at the Andy Griffith Playhouse (AGP) that afternoon. Maggie looks better today than she did on the show and is just the nicest person. I thought it was a thrill to drive her back to her hotel last year, but getting to visit with her throughout the weekend and getting a hug when she saw me, was just about the nicest thing she could do. She really is a great addition to Mayberry Days and hope she can make them all from here out. What was even nicer was to have her husband Gus Mancuso, a noted jazz pianist, join her this year. He really enjoyed himself and I think saw exactly what Maggie has told him about how wonderful Mayberry Days is.

Thursday morning came early as the tradition of not sleeping (not a lick) because I'm so keyed up continued from previous years. The first big event was held at the Mt. Airy Visitors Center with the unveiling of Hal Smith's "Otis Campbell" suit and hats. I was fortunate to have seen it when it first arrived from TAGSRWC headquarters this summer. It is just one of many nice things that Jim Clark, Presiding Goober of TAGSRWC, has done to show the spirit of Mayberry is still alive today by putting the suit on permanent loan to the Andy Griffith Museum.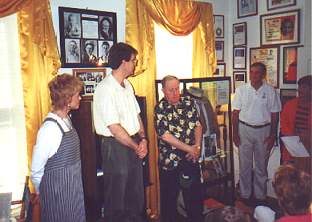 Maggie Peterson (Charlene), Jim Clark (TAGSRWC), Dick Linke (Andy Griffith's former business manager and Associcate Producer of TAGS), Emmett Forrest (whose collection of memorabilia is on display), and Ann Vaughn (Director of the MAVC) at the unveiling of Hal Smith's Otis Campbell suit on permanent loan from TAGSRWC and the Estate of Hal Smith.

Emma and Fred & Jennie Boone were at the MAVC for the unveiling and afterwards the 4 of us walked down to Snappy Lunch afterwards to get a picnic lunch for Fred & Jennie to take up on the Blue Ridge Parkway. We all stopped at the Country Club for the kick off of the golf tournament, then headed our separate ways. Emma and I went back into town and had lunch at Leon's. The plan was to meet for dinner before the VW Boys concert and the timing was right as Emmett & Martha had just pulled into the hotel while I was waiting, so they joined us too. I had invited friends from W-S up for the show and I think they both enjoyed the evening. I was disappointed that Margaret wasn't the "victim" of one of the funnier tricks they do, but she did get the thrill of sitting next to The Mayberry Deputy, so it worked out well for her. After the show, MPO & Myra, Elinora & Orville, and Mary Grace & Marvin arrived and we all visited after the show before an attempt at more sleep.

Up before the chickens again Friday morning, I headed to the MAVC to help set up for the Mayberry Garden Club Flower Show. There was another fantastic collection of flower arrangements on display and I helped Cindy and Brenda put that together and blow up blue and orange balloons to put around the grounds. At 11:00 our crowd met at the Mayors Proclamation to officially begin Mayberry Days. Mt. Airy awarded David Browning, The Mayberry Deputy, with honorary citizenship to the city and he had some very touching words to say. He really adds so much to all the events and Mayberry Days wouldn't be the same without him. It is nice to call him a friend.

Almost all the gang was there and it was great to meet Idelle Bushy and Gilly for the first time and see Nice Mary Grace and Mr. Foley again. We all headed down to Snappy Lunch and got a pork chop sandwich to go and sat under the shade at the AGP. Another annual tradition is losing to Emmett in a game of checkers. It was bad enough last year that he had not played since MD97 and beat me, but this year he only played his 8 yr old granddaughter and SHE beat him. Needless to say, I lost again, but that is part of the fun.

After lunch I was heading for the MAVC with a bottle of pop and Mary Dowell (of Snappy Lunch fame) told me the record was going down and 6 pork chop sandwiches were about to be eaten. I went in to check on progress and he only had 2 small bites to go. Apparently he has slowed down from his younger days when Jim Clark says he once at 13 prime ribs. The only other person to attempt the record only got through 2-1/2 sandwiches (only!!).

I got to the MAVC in time for the Flower Show awards and was pleased when my friend won again. That is now 2 yrs in a row for JoAnn. There was a record crowd at the awards ceremony this year too, and was nice to see the turnout for that.

I had a nice visit with Fred & Jennie under the shade tree at the MAVC. We had just missed Andelina's arrival in town and were glad to catch up with her at the Trivia. We headed down to the AGP to get a fan and see just how little we knew about the show. It always amazes me how well the Creachters do and was glad the most excitable woman from last year returned and placed in the top 3. I was only able to get 9 of 24, but that was pretty good. I didn't walk away empty handed though - they drew my fan number for the very last doorprize and I got Jim Clark's "Elvis Presley Family & Friends Cookbook." I was even able to get Jim's and Michael Hoover's autograph in it. There was some discussion about having a youth competition trivia next year and I think that would be a neat thing. There were a few kids there who answered more than the adults!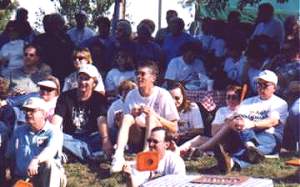 Mayberry Days 1999 Trivia Contest
Myra Koonce, Milton P. Oliver, Emma, Opie, Flora, and Jennie & Fred Boone are all fans of trivia. The 1999 Champion was Allan Colyar.

After trivia, we all walked downtown to get dinner. Pandowdy's was too crowded but we were able to all get seated at the Bluebird Diner. Then it was back to the AGP for the Doug Dillard concert. He's performed at all 10 Mayberry Days and it was great to have Ginger Boatright back singing with him. She did a great job and even sang with her friend from last year. It was also great hearing Maggie Peterson sing "Salty Dog" with the band.

After the concert we had a great time at the "Pick-ups and Splashes from Floor and Pool" Party at the Hampton Inn. We had an informal wedding shower for Mr. Schwump and Annabelle that turned out great - lots of soap and water (and Mayberry gifts). Elinora and Orville had a great bunch of trivia questions and only a couple of them were unanswered. George Spence came out to join us for awhile and he was amazed how well we knew TAGS. That was very nice to invite him to join us and even nicer that he accepted. Our only regret is that we all didn't call his wife and wish her a happy birthday that night. Everyone brought some great gifts for the pirate gift exchange and I scored a nice book of Old Wives Tales and an Advice Calendar, thanks to Emma (and Johnny Paul). It was great that Jim Clark was able to join us as well and his "You haven't heard the last of Ernest T. Bass" fish was a major hit at the party.

I hustled out the door having almost overslept Saturday morning, but made it to our regular spot to watch the parade. I thought it was one of the better parades with the addition of some classic cars, 2 marching bands, and a woman on a "horse that gives milk." I missed seeing Jimmy the Goat though. My buddy Keith had his great "Mayberry Welcomes Gold Truck"
| | |
| --- | --- |
| Mayberry Welcomes Gold Truck | Opie on parade |
sign out again. George "Goober" Lindsey was the Grand Marshal this year and he sewed up his fingers right in front of us (go on, Goob!). After the parade it was time to think about the Silent Auction. I got my stuff over to the AGP and folks were already with their items, so it was starting to come together. We started inside the AGP lobby and it was much more comfortable there, but most of the people coming to look were ones who were looking for the bathroom. I didn't think we could sell enough drinks to force more people to come use the facilities and check out the great stuff. We finally got the green light to move outside, which worked out pretty well after Floyd made an announcement on stage and folks began to wander over. We had some fantastic items from some of the most creative people I know - lots of items with that Mayberry flair - Christmas Wreath, Picnic Tablecloth, wastebaskets, hand towels, calendars, framed prints, and autographed memorabilia. I was very impressed with the donated items and even more with all the help that people gave me in my whim for a service project the WMBUTBB Internet chapter could do. We raised $996 and are already coming up with ideas for next year. I was very thankful for everyone who helped this year and hope to see even more WMBUTBB members helping next year.

One of the bigger disappointments for me was missing the pie-eating contest. The sign-up sheet was pretty empty on Saturday morning, but filled up nicely during the day, especially with the younger crowd. It was a battle of the titans with the 2 time champions from the past 4 years matched up stomach to stomach. Ann said there was a great crowd and everyone enjoyed the event. I am going to push to move the auction up an hour so I'm able to make it down next year.

After we were rested from the auction, we walked down to the Cinema to see Professor Brower's Lecture. That is always a highlight for me and Neil did not disappoint. He dedicated this year's lecture to his friend and TAGS writer Everett Greenbaum, who passed away this summer. Through his letters and visits, Neil was able to share with the world the stories and meaning behind some of the best writing in the show with his book "Mayberry 101". I look forward to the next in the series and future Mayberry Days lectures.

Next, they cleared the cinema and prepared for the annual TAGSRWC Dinner and Meeting. I opted for the meeting only so I wouldn't have to balance dinner on my lap this year. There were a few friends upstairs in the balcony when I arrived and Mr. Schwump even had photos from that morning developed, so we had some entertainment before the meeting started. With so many TAGS stars in town, they had a question and answer session as part of the meeting and it was great to learn some of the inside stories about production of the show from Dick Linke, hear about the pre-TAGS days of Maggie Peterson, and TAGS stories from both George Lindsey and George Spence. Jim Clark gave the condensed version of the chapter report and 26 states were represented this year. I talked about the results of the auction and some of the potential uses of the money, including funding the package to be submitted as part of the Library of Congress's Bicentennial Celebration of "Local Legacies" for which Mayberry was nominated. Continuing to show he is a prince of a fellow, Jim donated the door prizes to start a TAGSRWC relief fund for Hurricane Floyd victims by matching the amount from the sale of the items.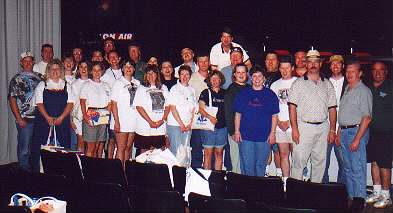 1999 TAGSRWC Chapter Photo
"Presiding Goober" Jim Clark stalking (not fly killing) in the very back center of the photo. Alan "Floyd" Newsome of WMBUTBB and Mother Figure chapter to Jim's right.

Next, we headed over to Col. Tim's Talent Time. The show started on time and The Mayberry Deputy kept things moving right along, but still had time to have fun with the crowd and the performers. Michael Hoover's "Memories of Elvis" returned and had another outstanding performance with the help of his back up band - Barney, Floyd, Ernest T. and 4 gorillas. Melvin brought the house down with his rendition of "Cacklin' Hen" and "Soldier's Joy" and took 1st place again! This year's show was the perfect number and mix of acts who performed the right amount of time and was by far the best show I have seen. Gus Mancuso accompanied Maggie on the piano and she sang some very nice songs that I felt truly were from her heart to ours.

The day ended with the bowling tournament and our group had 3 teams again. Andelina outdid herself by creating t-shirts for 2 of the teams - Half-Moon Trailer Park and Ladies Aide Church Committee. Emma, Jennie, Elinora, and Flora each had their bottle of Col. Harvey's Indian Elixer and the cutest little hats to bowl in, but the judges liked the gorilla suits better. The teams did very well, finishing with the Half-Mooners finishing 1st (Milton P. Oliver with overall high score) and the team of Fred Boone, Mr. Schwump, Gilly, and Orville Monroe taking the 3rd spot. Plus Fred Boone won a door prize. After all the awards were distributed, we all dragged out to the car after over 17 hours of fun.

| | |
| --- | --- |
| | |
| The Ladies Aide Church Committee Bowling Team with their bottles of Colonel Harvey's Indian Elixer | Bowling T-shirt created by Andelina |

On Sunday, most of us were able to meet for breakfast at Quincy's to share a final meal, look at photographs, share stories from the previous year and try to prolong our good-byes. It was hard for me to see everyone drive off, knowing it would be a year before I would see some of them again. I went over to the MAVC to help out there for a little while and try to squeeze as much of Mayberry as I could that weekend.

It was my 6th Mayberry Days and really was the best for me. Perfect weather, events on schedule, success with the auction, and getting to spend time with the best people in the world - my online friends from WBMUTBB.
Jeff "Opie" Koontz
WMBUTBB and "Some of us got it... some of us ain't" TAGSRWC Chapters