Remembering Mayberry Legend Aaron Ruben (1914-2010)
With the passing of Aaron Ruben on Jan. 30, Mayberry lost one of its founders and strongest pillars. We lost a man with a tremendous talent and wonderful heart. We lost a true friend. Other than Andy Griffith himself, no one was more crucial behind the scenes in guiding and shaping "The Andy Griffith Show" during its first five seasons.
The following article about Aaron is from the October 3, 1995, issue of The Bullet (the printed newsletter for TAGSRWC that later evolved into our online eBullet newsletter and into the smaller printed newsletter, The Pocket, and eventually the current printed flier, The Button).
We hope this story gives a glimpse into the extraordinary life of this man who was so important to all of us who love Mayberry.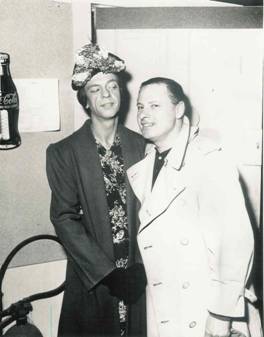 Aaron Ruben getting a curious look
from a friend on the set of "The Andy
Griffith Show."
Mayberry Architect Aaron Ruben Built
Success with Top Stories!
by Jim Clark
Producer/story consultant/writer/director Aaron Ruben has a reputation among his entertainment peers for being one of the most unassuming and genuinely modest people involved with the production of "The Andy Griffith Show."
In fact, getting Aaron to talk at length about himself is a futile effort that quickly leads to his talking more about the admiration he has for the talents of the various people he has worked with over the years than about himself. Try to steer him back toward talking about himself, and a moment later he has returned to discussing others.
And yet, whenever the cast, writers and production staff of TAGS talk in any depth about the show and the reasons for its high quality, Aaron Ruben is the name that always comes up—and always with universal praise. Aaron is esteemed for both his high level of creativity and his hard work.
Here, then, is a glimpse into the career of Aaron Ruben, a man who worked tirelessly and brilliantly behind the scenes to create the Mayberry entertainment loved by millions.
Aaron J. Ruben was born in Chicago on March 1, "sometime ago" (that is, during the first third of this century, but he's not saying precisely when), the second child (after sister Anne, who now lives in Miami) of Rose and Max Ruben, a salesman first of coal and then insurance.
Aaron's childhood was filled with the usual kid stuff. "I kind of dabbled as sports editor for my high school magazine," Aaron recalls. "And later I joined a Little Theater group in Chicago, where I acted a little, wrote a little. It just happened. I never had a vision that I was going to do that [for a career]."
He adds, "Everything contributed toward it. When you finally become a writer, everything helps. You remember things that happen. I can't pinpoint them. Everything contributed to kind of moving me along in that direction."
Aaron was graduated from high school and then attended Chicago's Lewis Institute (now called the Illinois Institute of Technology). The school was known mostly for its engineering curriculum, but it also happened to have a very good liberal arts program, which is what attracted Aaron. He ended up majoring in English. After a couple of years of college (where he had been working his way through as a teacher's assistant), Aaron was drafted into the Army.
Once discharged from the Army ("I was just a dogface," he says), Aaron settled in California in the mid-1940s and began work in radio. His first job was as a writer for George Burns and Gracie Allen for their popular "Burns and Allen" radio show.
Aaron then took a job in New York as a writer for Fred Allen's radio show. "I was thinking I would be there for one season, but I ended up staying 15 years."
While in New York, Aaron also wrote for radio star Henry Morgan's popular show, "Here's Morgan," and he wrote the first half hour of "The Henry Morgan Show." He also worked with legendary comedy writer Nat Hiken on Milton Berle's radio show—before Berle became "Mr. Television."
As television did in fact come into its own during the 1950s, Aaron began working as a writer for shows featuring rising stars of the rising medium, including Sam Levenson, Berle (for both "Texaco Star Theatre" and "The Buick Berle Show") and Danny Thomas. "One of the popular things on television during that time was the one-hour variety show. I did a lot of those," Aaron remembers.
He also wrote for the 1956-57 season of "Caesar's Hour," Sid Caesar's follow-up series to the landmark "Your Show of Shows." Aaron then left the Caesar show to be writer and director for the final two seasons (1957-59) of "You'll Never Get Rich (The Phil Silvers Show)" aka "Sgt. Bilko."
As much of network television production shifted to the West Coast, Aaron decided it was time for him to make the move back to California as well. "Things were falling apart in New York," Aaron recalls. "As much as I enjoyed it, I had to leave." He left New York for Hollywood in 1960.
"The fortunate thing was that Sheldon Leonard looked me up," Aaron says of his decision to head to California. As it turned out, Sheldon was looking for more than just a producer for TAGS, and he did more than just look Aaron up. He sought him out as the very best man for the job.
"Actually, what we want is a writer," Aaron remembers Sheldon telling him. "Sheldon created the 'writer-producer.' For him the script is most important. If there's a problem with a script, there's your writer-producer there to fix it. I learned a great deal from Sheldon, as did many others that he trained to be directors and producers."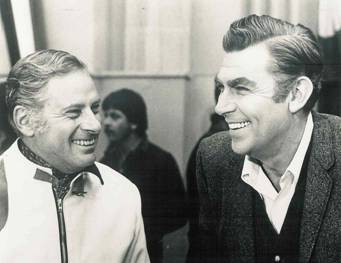 Aaron with Andy Griffith in the 1970s.
When Aaron was offered the opportunity through his association with the William Morris Agency to produce TAGS, he was also presented with offers to produce two other new network TV series. He had his choice of whichever one he wanted. Fortunately for all Mayberry fans, he instantly chose the TAGS job.
Aaron was on board with TAGS from the show's beginning—serving primarily as producer, but usually receiving separate recognition as story consultant. "It was great having a working writer as producer," writer Harvey Bullock says of Ruben.
Through his five seasons with TAGS, Aaron also received credit as writer of seven episodes, all of them milestones: "Barney Mends a Broken Heart" (Episode #68), which introduced the "Fun Girls"; "Floyd, the Gay Deceiver" (Episode #71), which is the only episode that has Floyd as the central character; "Lawman Barney" (Episode #92), a defining episode for the character of Barney; "A Wife for Andy" (Episode #107), an episode that sets the stage for Andy and Helen's long-term commitment; "Gomer Pyle, U.S.M.C." (Episode #107), the "pilot" for the new series, which he also directed; "Fun Girls" (Episode #123), the first appearance of Goober and the only episode with both Gomer and Goober; and "Barney Hosts a Summit Meeting" (Episode #240), the last appearance of Barney Fife and the episode that received the highest Nielsen rating of the entire series. He also directed "Opie Loves Helen," Episode #132.
"Now and then I would get an idea," Aaron says about the episodes he wrote. "Sheldon would say, "Why don't you write it?' And it was a good way to kind of keep my feet wet as a writer, even though I did a lot of rewriting."
One of Aaron's legendary additions to a TAGS script is the "Boy, giraffes are selfish" bit in Barney's "thunder and lightning" speech in "Dogs, Dogs, Dogs," Episode #93. Writer Everett Greenbaum has always credited Aaron with coming up with those hilarious additional lines to the scene (which Everett remembers so well because it's one of the few times he really liked the changes someone made to what he had written). But Aaron is characteristically quick to discourage any credit by saying only that, "I very vaguely remember something about that."
And it was in building and rewriting stories with the crack team of TAGS writers that Aaron perhaps made his greatest contribution to Mayberry. With the exception of Andy Griffith himself, no one has ever lived, breathed, thought and felt Mayberry as thoroughly as Aaron Ruben. He knew the mind and heart of every character—even ones never seen such as waitress Juanita and telephone operator Sarah, both of whom he is often credited with creating. ("To be fair," Aaron demurs, "I don't know that I actually created these two characters, but I certainly enjoyed writing them.") And more importantly, Aaron knew which stories and dialogue would be true to the characters and the spirit of the town.
Sheldon Leonard's genius for assembling a strong team was never more apparent than when Mayberry hit the TV field with Andy Griffith starring at quarterback and Aaron Ruben working the sidelines as head coach.
In a bit of an understatement, Aaron says, "I cared a lot about how the show came off." When pressed, he'll admit that "I am something of a nitpicker."
In fact, he was famous on the TAGS set not only for his attention to detail concerning the words in the scripts, but also for his keen eye about the placement of even the smallest props on the set. Between episodes, he might move a picture on a wall or swap out a picture on a table. (Fans who notice a photo of Aunt Bee or one of a very young Andy in the background of a scene can thank Aaron Ruben for that detail.) And legend has it that he frequently tinkered with the map behind Andy's desk in the courthouse, but Aaron doesn't recall that particular "compelsion."
In the editing room, Aaron tried in vain to rein in his perfectionism. "I would sit with the editor every day," he says. "I would suggest a slight change here or there, but I tried to avoid interfering too much—unless I felt a really strong urge. I am a stickler for detail. I remember once on the 'Bilko' show one of the guys in his outfit was wearing a wedding band. Phil Silvers said, 'Ah, nobody'll see it.' I said, 'Well, I'll see it!'"
Aaron sums up his approach simply: "You do it the best way you know how."
And Aaron's and everybody else's hard work paid off. "Did we know we were creating a legend?" he asks himself. "We would have laughed at the suggestion. We just did the best we could. It was a thoroughly professional group to work with."
Echoing Andy Griffith's words and original vision for TAGS, he adds, "You know we were really doing a show not about the '60s but about small-town life in the '30s. People remembered those simple times of two or three decades earlier. If nostalgia had appeal in the '60s, you can imagine the appeal it has today with the kind of worldwide crime and violence that's there. People see the show and wonder, 'Can we go back to the days when we didn't have to lock our doors and when we could walk around the neighborhoods?' People have a longing and a hope that maybe one day it will come back to that. We showed people at their best."
At the same time, Aaron says, "I didn't want us to sound like a 'goody two-shoes' show either. We asked, 'What's fun, appealing and interesting?'"
As much pleasure as Mayberry brings to viewers, it's good to know that the show brought joy to the folks like Aaron Ruben who created it. "It was the most rewarding and best and happiest experience of all of my years in the business. We really were a family. We were a team. We respected each other. There was never the wrangling and infighting that you sometimes see. The 'Griffith' set was one of the most enviable in town. It just jelled.
"The star generally sets the tone on the set," Aaron continues. "I can't take credit. I was pretty much in my office. We had wonderful writers, good directors, a marvelous cast, a terrific crew—all working together to make the show work. We never set out to make it anything but a warm, entertaining and interesting show. We never tried to force a message. If it came out, then fine.
Aaron says that he was always enjoyed being around interesting people like the show's stars. Of Andy Griffith and Don Knotts, he says, "There was lots of back and forth with them. They just clicked and were a lot of fun to be around." And of Ron Howard: "He was one of the most professional people—and I don't mean just child actors, but adults, too—that I ever worked with. That was in great part due to his parents. They were not the typical "stage" parents and made sure he was getting good tutoring and a wonderful upbringing."
But as enjoyable as working on TAGS was for Aaron, a creative opportunity was developing that he would have to pursue. Not long after the character of Gomer Pyle was introduced, it became apparent that he could do more than pump gas and check water and air at Wally's.
The Gomer part originated simply enough: "We had a need for a filling station attendant," Aaron says. The episode ("Man in a Hurry," Episode #77) called for someone less skilled with cars than Wally. (See the profile on Jim Nabors in the July 8, 1995, issue of The Bullet for more details about how Jim Nabors was discovered and got the part.)
In 1963, after Jim Nabors had played Gomer less than a season, the TAGS team decided Gomer could thrive with his own series. "Andy came into my office and said, 'We've got to do something for Jim.' I said, 'Yeah, yeah.' But Andy said he wasn't leaving my office until we came up with something.
"I thought a minute and then, realizing that Andy really wasn't leaving until I came up with something, said, 'I see Gomer as this naive, innocent, peace-loving character. Imagine a guy like this—innocent—going off to...the Marines.'"
Andy Griffith liked the idea and must have appreciated the similarity to his own successful Will Stockdale character in No Time for Sergeants. The Air Force is one thing, but the Marines?
"The Marines were very particular," Aaron remembers. "The only one they would allow use of the Marines for film was John Wayne. We assured them that there would be no ridicule and that we would show them at their best. I asked them, 'Do you ever get a guy like Gomer in the Marines?' They said, 'We'll take you and show you a field of Gomers.'"
The "Gomer Pyle, U.S.M.C." pilot aired as the last episode of TAGS during the 1963-64 season, and the new series then began production for the first of its five seasons (and 150 episodes) with Aaron Ruben serving as the executive producer with Sheldon Leonard and also as line producer throughout its run. (Writer Bob Ross took over as producer of TAGS.)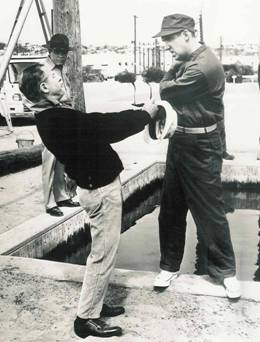 Aaron giving direction on "Gomer
Pyle, U.S.M.C."
A lot of familiar faces worked on "Gomer"—writers such as Bill Idelson and Sam Bobrick, Harvey Bullock, and Everett Greenbaum and Jim Fritzell, and directors such as Coby Ruskin and Richard Crenna, plus production manager Frank Myers and many of the other TAGS crew.
"'Gomer' was a fun show to work with—beginning of course with Jim Nabors and Frank Sutton," Aaron says. "Frank was a very talented guy. We couldn't have found a better sergeant than him."
Under Aaron's leadership, "Gomer" enjoyed five successful seasons of new episodes (plus part of a sixth airing only reruns) from 1964 to 1970. Like TAGS, "Gomer" never finished a season ranked lower than 10th in the Nielsen ratings.
And hand in hand with his success with TAGS and "Gomer," Aaron still found time to work on some variety specials, similar to ones he had worked on years earlier with legends such as Eddie Cantor and Ed Wynn. Some of the specials he produced and wrote for are "Andy Griffith's Uptown-Downtown Show" and "The Don Knotts Special" (both for CBS in 1967) and "Charo and the Sergeant."
He also co-wrote and co-produced with Carl Reiner the highly regarded 1969 theatrical film The Comic (starring Michelle Lee, Dick Van Dyke and Mickey Rooney.
After "Gomer," Aaron developed several pilots for new TV series, and he also helped with "The Headmaster" and "The New Andy Griffith Show" in 1971. He continued to bring new series to the air throughout the 1970s and early 1980s with stars such as Stockard Channing ("The Stockard Channing Show," 1980) and Lynn Redgrave ("Teachers Only," 1982-83), and he also worked on the "McLean Stevenson Show" in the mid-'70s.
One of his biggest successes was as producer for Norman Lear's "Sanford and Son" during its first three seasons, beginning in 1972. "Sanford" was based on the popular British comedy "Steptoe and Son," but Aaron explains, "I was the one who recommended it be done with black actors. My recollection of junkmen was that they were Italian, Jewish or black. I thought we could do a fun show and that it could be done in a good light."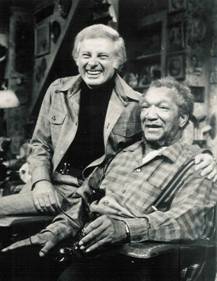 Aaron with Red Foxx on the
"Sanford and Son" set.
With "Sanford," Aaron had another hit (never ranking below seventh in the Nielsens during the time Aaron was with the show, and missing the top 10 only during its final season).
After Aaron left "Sanford," he launched another high-powered show (this time as executive producer) with "C.P.O Sharkey," which set sail with Don Rickles as sort of a seafaring Sgt. Carter in 1976.
One of the last shows Aaron produced was "Too Close for Comfort" starring Ted Knight. After three solid seasons on ABC, the series (based on the British sitcom "Keep It in the Family") continued to find success by producing new episodes for syndication. "It would have gone on and on," says Aaron, "except poor Ted got cancer and died very quickly." The show ended in 1986.
Aaron accepted one more call for his TV know-how. In 1986, Andy Griffith asked Aaron to help with the writing on "Matlock." "The show was well-launched and quite successful when Andy called me," Aaron says. "What he wanted from me was to add a bit of warmth and light touch to the serious and generally unrelieved murder story. Andy wanted me to do that and I did for a couple of seasons.
Today, Aaron still stays in touch with Andy Griffith. "Sid Caesar, Sheldon Leonard and Andy Griffith have remained friends through the years," he says. "That's been nice.
He says his old pals share his concern that television today is in danger of going down the tube, so to speak. "They all have the feeling that today it's all about shocking and being mean-spirited as a substitute for true humor. On the 'Griffith' show we sometimes would tell stories and go minutes without going for a laugh and not worry about it. The audience loved it." (And obviously still does today in reruns!
Aaron and his wife since 1971, actress Maureen Arthur (well-known for her performances on stage and in films, including the role of Hedy La Rue, the red-haired siren in How to Succeed in Business Without Really Trying on the stage tour and in the film, plus she has appeared in lots of TV shows that are in frequent reruns, including the "Freddy's Friendly Computer" episode of "Gomer"), have been very active in charities. In fact, Maureen is president of the Los Angeles chapter of Variety Club.
Aaron has two sons from a previous marriage. Son Andy (no, not named for you-know-who) has been involved in film work, first as an editor, and lately as a screenwriter. One of his recent projects was 1992's Poison Ivy (starring Drew Barrymore), which was also directed by his first wife, Katt Shea Ruben. Aaron's other son, Tom, worked as an actor for years (he had a good part as Kowalski in "C.P.O. Sharkey," among others), but he has since pursued a career in photography, a field in which he holds a degree.
During the last decade or so, Aaron has turned his attention and talents to an entirely different field. "I have been involved with a program called CASA, which is Court-Appointed Special Advocates, which works on behalf of abused children who have been taken out of their homes," Aaron says.
"We gather information relating to an abused child and make our recommendation to the judge as to what is in the best interest of the child," he continues. "There are 40,000 volunteers in the program across the country.
Hearing Aaron talk about his deep commitment to his work with CASA and about the importance of society's dealing with the problems of child abuse, drugs and poverty, one can't help but sense that a real piece of Mayberry hope is being instilled through him into the lives of people who need it most. "It's very rewarding work," says Aaron. "I can't think of anything I'd rather be doing at this stage. It's very necessary.
And it's just one more reason you'll not find any selfish giraffes "running around, looking out for number one, getting hit by lightning" as long as Aaron Ruben is nearby.
If you happen to have handy a copy of the Aunt Bee's Delightful Desserts cookbook, you can read more about Aaron's association with CASA in an article in the back of that book. (Proceeds from the sale of the cookbook continue to support the L.A. chapter of CASA in honor of Aaron.)