Special Note from Jean Carson's son Tracy:
November 2, 2006

JEAN CARSON

Dear Daphne Fans and Mom,

I can not believe it's been a year since my mother's passing. I have not been dwelling on it, even though I think about her almost every day.

As time has passed, it's given me a chance to think about my mom. It seems she had a great effect on a lot of people who crossed her path, mainly you her fans, which I am very lucky and grateful.

I went to Mayberry Days this fall and had a great time. It was very emotional and cathartic. I really want to thank all the caring fans of my mother, who took the time to talk to me, or thank me for my mom. I must have had tears welling up at least ten time a day. I had to repeatedly thank them back for their care and correspondence with her because it was what really gave meaning and worth to her last days here at Heaven on Earth.

It really helped me work through some of my grief. I thank you again, from the top of my heart.

Sometimes I think that when a loved one moves on, I see a lot of people holding on, and being remorseful for a long period. I think that is not the best way to honor our loved ones and is possibly a bit on the self serving side. No disrespect, but I mean that it's a bit one sided, in that there can never be any closure from our dearly departed, we really do not get their perspective. If we did, I think they would want us to celebrate their life and your friendship and time together. Looking at the other side of the coin. I honesty do not think I'm supposed to be moping around heaven, thinking about my life on earth, but instead rejoicing my time there.

I have to be very grateful for every moment I have when someone is here, no matter how long or short.

The important word here is "short" because I never know how long I or anyone else will be visiting this wonderful planet with all it's incredible inhabitants and mysteries, Carpe Diem.

I have to condition myself to cherish and embrace every fleeting moment I have, every nuance, every experience good or bad, I truly know even a bad event Is a lesson from Above.

If there were one lesson or rule in life that we should have learned as children, teachers, leaders, clergy and the world as a whole, it would have to be True Gratefulness, because that one word encompasses so much. It gives one an overall knowledge and understanding of brotherhood, trust, sharing, compassion, and appreciation. This is the answer to peace within and world peace.

I know our world is moving fast, but lets please take the time to keep life in perspective and look out for each other. Do not get caught up in the past or future, Be Here Now!

I am also writing this letter to my self, and acknowledging that I am still learning allot of lessons. That is our main mission in life, it's a giant schoolhouse, and I'm still in the play yard.

OK, I'll get off my soap box now, but I think where I was going, is that I am grateful for who my mom is, not was, and that even though I didn't spend as much time as I could have, I am very grateful for every moment that I had with her, and the moments I know I'll Have With Her, Forever............................................................................................................ : )

I LOVE YOU MOM FOR WHO YOU ARE, NOT WHO YOU WERE.

I Will see ya'll at Mayberry Days 2007,
Your Friend and Mayberry Family Forever,
Tracy Lee Alexander

PS I am going to leave you with the Mt. Airy dedication speech that I wrote for my mom.

Mt. Airy Dedication Speech 2006

Hello Doll!

I don't know if some of you know it, but my mother was practically a neighbor to Mt. Airy.

She was born north of here in Charleston West Va. and moved to N.Y city in her early days to start her career in theater.

I am grateful and proud of my mother for the impact she had on me, and her television fans.

She always said the Andy Fan are the best, and that they were always so genuine to her, she was very grateful for that.

I want to thank you all personally for all the love and support you gave her when she was ill and especially in the final days. It was very comforting to all of us. She really, really wanted to write each and every one of you back to thank you personally, She thanks you all.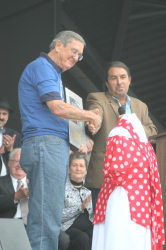 It absolutely stuns me, standing here now, having the opportunity to be loaning, a simple poka dotted blouse to the Andy Griffith museum, that she was known for on the show and the many skits she entertained you with.
In a way, this simple piece of wardrobe represents the simpler things in life, the way life use to be. The way a lot of us would like to see it again. It is the basis of what we love about The Andy Griffith Show.
I would like to share a poem I wrote for her memorial that is appropriate for this dedication.
"The Final Curtain Call"
As our time grows short,, and we have had our final curtain call, its time to go home...
O what a tour this has been, its been a real long run,, its probably a record..
I am tired,,, it was a lot of hard work, but a lot of fun,, I met a lot of wonderful people, and learned a great deal...
I am sitting in my dressing room,
looking into the make-up mirror of life, reflecting on my wondrous and magical life, and begin to remove the make-up, and wash my face for the last time..
Wardrobe has come and gone, and taken my costume, to pack away for the last time.
I cannot tell you how many times I wore it, it looked good on me,, it said a lot about my character.
I had a lot of wardrobe changes in my life, but I liked the last one the best...
It truly defined the culmination of everything that came before.
As I reflect back on all the shows I performed in, I identify mostly,, with the shows that made me reach inward, digging deeper for the character, touching and learning from the people around me...
Now looking back,, at the reflection in the mirror, everything looks clearer,,
I like what I see,, Its me..... Good Bye Doll.......... : )

I personally embrace this "wardrobe analogy", as being a wonderful costume or vehicle for our ego or actor within to perform and create the persona we wish, and then move on to the next show............

Speaking of shows.
I can not wrap up this speech without giving thanks and honor to the people who gave my mom and other actors that once in a live time opportunity.... The opportunity to create history.

Lets please give a big round of applause to everyone who created and made "MAYBERRY" and "THE ANDY GRIFFITH SHOW" possible.

As with all great things, they must come to an end.
The final curtain call has come for my mom,,, O what a tour this has been, it's been a lot of fun,, I have learned a lot,,, I will miss her and she will miss you all.