---
Adventure sleepin'
A stay in Andy's boyhood home sets off a search for the roots of the magical town of Mayberry.
by Lynn Edge


The house where Andy Griffith grew up in Mount Airy, N.C. (seen above and left) is now a bed and breakfast where guest can immerse themselves in Mayberryanna.
Opie: "Aw, rats! If you was stayin', I was gonna get to sleep on the ironing board between two chairs."
Malcolm Tucker: "Sounds terrible!"
Opie: "No it ain't, that's adventure sleepin' "
It doesn't have the big front porch where Andy, Aunt Bee and Opie spent their summer evenings. It doesn't have a second floor. And, fortunately for the overnight guest, there isn't an ironing board in sight.
Still, the house where Andy Griffith spent his boyhood is just what an "Andy Griffith Show" fan would expect. It is unassuming, much like all the others on Haymore Street. It isn't in the part of Mount Airy, North Carolina, where the old money lives. It's in a nice part of town where lawns are neat and churches dot almost every corner.
The house now is a bed and breakfast where for a while, at least, guests can enjoy the fantasy of "staying a spell" with Andy, Aunt Bee and Opie. It's easy to slip into that feeling. So easy, in fact, that when the doorbell rings, one almost expects to see Gomer or Barney standing on the stoop.
It's more likely to be someone who saw the sign and stopped to see if he could tour the house. Even if tourists don't ring the bell, they slow down to look or stop to make a picture. It comes with the territory. Anyone who stays in the house becomes a celebrity by proxy. But it's not intrusive. Mount Airy seems to cast a spell over folks that makes it impossible to be that way.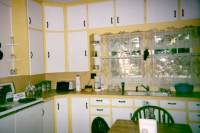 "...large cheery kitchen.."
Inside the house, wrapped in the Mayberry mystique, guests find beds with chenille spreads, a large cheery kitchen and plenty of tapes of the "Andy Griffith Show." They also find the room Griffith occupied when his family called this "home."
By comparison, Opie's television bedroom is a "boo-door." Griffith's room is small, barely big enough to be called a room. Locals say that when it was his home, Griffith had nothing but a bed in the room. It has been altered over the years, with a built-in desk replacing the area where Andy slept.
The house is only the beginning of a search for the Mayberry that Griffith introduced to the nation on an episode of "The Danny Thomas Show." It was a world that many viewers never had seen before -- a place where the pace is slow and the people welcoming. However, it was the kind of place Griffith came from and the kind of place a that still exists today.
A search for Mayberry is going to mean getting out into the town of Mount Airy, meeting the people and seeing the sights. Start at the Welcome Center, where they show a tape all about Mayberry, Mount Airy and Andy Griffith. They also have a rocking chair Griffith's father made for his wife to rock Andy as a baby and a suit Griffith wore as Ben Matlock. From there, head downtown to Main Street to see the shops and chat with the folks. The thing you'll quickly discover is that Mount Airy doesn't try to be Mayberry. And in the not trying to be, it becomes even more like Mayberry than ever.
Thomas A. Moody (Sheldon Davis):
". . . the generous journey through the bazaars of Mayberry."
Oh, sure, there are pictures of Sheriff Taylor and photos of Aneta Corsaut, Don Knotts and George Lindsey with the local folks during their visits to Mount Airy. But, unlike the town of Mayberry when it was chosen as a movie location, the town hasn't "hoked it up." They haven't installed a horse trough in the middle of town and they haven't set up an Emmett's Fix-It Shop or a Monroe's Funeral Parlor and TV Repair Shop.
In not making Mount Airy be Mayberry, the folks there are doing exactly what the people of the television town learned to do after almost losing their chance to have a movie shot there -- they are keeping things just as they are.
There IS a Snappy Lunch and a Floyd's Barber Shop. The Snappy Lunch was there before the show and Floyd's -- complete with a barber who happens to look like Howard McNear -- operates the same way it has for years. Before the television show, however, people didn't vie for positions from which to make photographs in the small eatery and out-of-towners who came into Floyd's didn't ask to sit "in the same chair he did."
Otis: (Using a metal cup to tap out a code on the bars of his cell): " Hey, Barn, know what that means? It means we're bustin' out of here tonight."
Otis: (Tapping out a different rhythm): "You know what that means? Barney's in jail, Barney's in jail."
The people who live in Mount Airy will sit in any chair at the barber shop. They go about their business -- working, walking the dog, shopping -- just as if Andy Griffith hadn't grown up here. The small town that sits northwest of Winston-Salem a scant few miles from the Virginia border doesn't take itself too seriously even if it has been hometown to Griffith, Donna Fargo, Tommy Jarrell and Eng and Chang Bunker, the original Siamese twins.
Mount Airy is a town that invites visitors to stroll up and down Main Street with the residents, dropping in whatever shops or restaurants catch the eye. Surely some "Andy Griffith Show" viewers wondered about the easy manner in which the Taylors opened their house to anyone who came through town -- from the sophisticated Malcolm Merriweather to the backwoodsy Darlings. That sense of openness and trust was something Griffith obviously learned in Mount Airy.
It's the kind of town where someone who just arrived in town can make a casual comment about a shared parenting experience to a shopper and her soon-to-be-five-year-old daughter and, a few minutes later, be sharing dinner and trading life histories with them at Pandowdy's.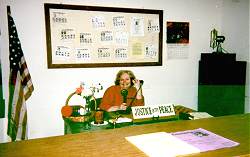 No search for the look and feel of Mayberry would be complete without a visit to the place where most of the action on the television show took place -- the jail. Not the new, spiffy one with all the "electronal" marvels and places to keep the tear gas and all the other equipment necessary to run an up-to-date police force. The one that's no longer in use for "inarculating" folks.
On City Hall Street, just outside the building that once housed Mount Airy's City Offices and Police Department, visitors will spot a familiar looking squad car. Inside the building, they find the jail, complete with a desk that has a Justice of the Peace sign, a (much too neat) bulletin board and a cell all set up and waiting for the next "overnight guest of the city." There's even an Otis mask they can wear as their traveling companions click away at camera shutters, creating Mayberry memories.
As visitors file into the building, they are told, "We operate this just like Otis. You let yourself in and you let yourself out." Between those times, again like Otis, those who drop by pretty much have the run of the jail.
Floyd: "You know something, Andy? This proves just one thing."
Andy: "What's that?"
Floyd: "If you want a good suit, you've got to go to Mount Pilot."
On "The Andy Griffth Show," Mount Pilot was the big city where folks went to get things they couldn't find in Mayberry. In reality, Pilot Mountain is a much smaller city than Mount Airy.
There is, however, a place to get a good suit and there's a place -- Mount Pilot Drugs -- to get a good milkshake.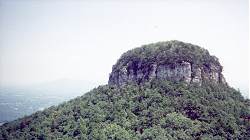 The real appeal of Pilot Mountain is the mountain that towers over the tiny town. From a distance, it looks a little like a tennis ball wearing a mop on its head. The bottom part of the mountain looks very much like any other you see in the Southeast. Then a treeless "knob," shaped much like a beehive, pops out of the top. It's crowned with a forest of trees that is home to dozens of hawks that swoop and sail around the mountain top like planes doing "touch and go's."
Visitors can drive most of the way to the top of one of Pilot Mountain's pinnacle. From the parking lot, it's only a short, not difficult, walk to "Big Pinnacle" and a breathtaking view of Pilot Mountain and the valley below.
"They used to let you climb up to the top of Pilot Mountain on some rickety ladders," the newspaper editor told recent visitors, "but they decided that wasn't such a good idea."
Andy: "Yeah, there's something about Mayberry and Mayberry folk that never leaves you."
Andy Griffith has said, "Mayberry was a made-up town with problems we made up. Mount Airy is a real town with real problems." As true as that may be, anyone who has been to Mount Airy leaves knowing there's more than a little Mayberry there.
Lynn Edge is a freelance writer and the president of The Bucket Thankers of Central Alabama Chapter of The Andy Griffith Show Rerun Watchers Club.