---
Andy's 'Fun Girl' is back in town
City native's 'Hello Doll' part of show's legend
June 21, 1998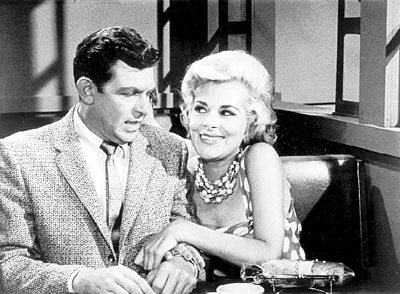 File photo
As "Fun Girl" Daphne, Charleston native Jean Carson throws herself at Andy Griffith on the television series bearing his name. This shot is from an episode called "Barney Mends a Broken Heart."
By Kay Michael
SUNDAY GAZETTE-MAIL
When she walked onto the Andy Griffith Show set in the 1960s, Jean Carson's career was in high gear.
"At that time, I was pretty hot," she said. "It was just another job."
In town for her high school reunion, the Charleston native will leave town after the reunion festivities and head to Kingsport, Tenn., for "Mayberry in Meadowview" - a production featuring former Griffith show cast members.
When she joined the show, she had no way of knowing the series would be watched by generations of viewers long after production ceased.
Even more surprising, she said, is the show's cultlike status.
Cable channels continue offering reruns, and fan clubs are commonplace.
Carson's involvement was limited to three episodes. But as Daphne, the raspy-voiced flirt with sparkling eyes, she became part of a legend.
As one of the "Fun Girls" from Mount Pilot, her signature greeting was a throaty "Hello Doll." Her delivery of the line continues to spark cheers from fans who gather when cast members reunite.
Carson looked back on her career in "More Than Just a Fun Girl From Mount Pilot," a book by free-lance writer Lee Grant, an admirer.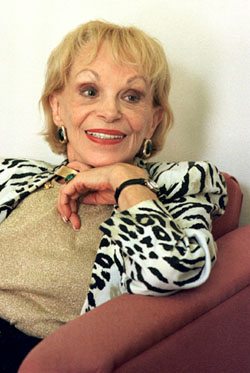 In town for a Charleston High School reunion, Carson recalls a career spanning nearly six decades. She is best known as Daphne, one of the "Fun Girls" on "The Andy Griffith Show." When she leaves Charleston next week, she'll head for Tennessee and a performance by several of the series' cast members.
In the book, she concedes what she had no way of knowing at the onset: "No matter what system is used to rate favorites, my most gratifying television experiences came on 'The Andy Griffith Show.'"
The show may have been her most gratifying, but Carson's career was well under way when the popular series took to the air.
At the end of her senior year at Charleston High, she was voted the Girl Most Likely to Succeed as an Actress. Determined to make good, she persuaded her family to allow her to enroll at Carnegie Tech College in Pittsburgh (now Carnegie-Mellon University), saying it boasted a drama department second only to the American Academy of Dramatic Arts.
After a year of study, she was lured away by a visiting New York producer offering her a role in a summer stock production in Great Neck, Long Island.
"Broadway was only a few miles away!" she recalled.
She appeared on Broadway and radio broadcasts. Before long, a new medium beckoned. Carson's television appearances included "Playhouse 90," "77 Sunset Strip," "Twilight Zone," "Your Show of Shows," and "Peter Gunn."
Her film credits include a role in "Phenix City Story," a film acclaimed by critics but rejected at the box office.
For the most part, Carson relished her roles. An exception was "The Betty Hutton Show."
"That's the only time I ever had to take pills," Carson said of her work with Hutton. "She was a foulmouthed old biddy."
Carson, a mother of two sons, said she was careful to keep her children away from the set, as were other cast members.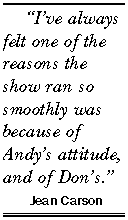 The actress is as complimentary of Griffith as she is critical of Hutton. Despite stories that Griffith could be difficult, Carson said she saw no hint of discourtesy during her stints on the set.
What she saw was professionalism, she said.
"I've always felt one of the reasons the show ran so smoothly was because of Andy's attitude, and of Don's," she said, referring to fellow cast member and fellow West Virginian Don Knotts.
However, Carson said she's saddened that Griffith has chosen to distance himself from his best-known series.
"He's lost a lot of fans from the show because he has distanced himself completely," she said. "When we do the shows reunions such as the upcoming Kingsport program, they must be called Mayberry. He doesn't allow his name to be used.
"I guess he didn't want to be remembered as the hillbilly sheriff."
Now living in Palm Springs, Calif., Carson is spending much of her weekend in Charleston catching up on family news. Her sister, Betty Brawley, has remained in town.
And Brawley's daughter, Harriet Nottingham, has raised a family here.
Carson said she hasn't lost her affection for West Virginia. As she flew in and glanced over mountains to the Capitol dome, she said she believed the view was the most beautiful in the world.
But she won't be staying.
"I don't like the desert, but I have two sons who are there."
Nevertheless, she said she often thinks of home.
"We had a camp on the Elk River when I was young," she said. "I 'worshed' in the river. And I do mean 'worshed'."
To contact staff writer Kay Michael, call 348-1254.