---
MAYBERRY DAYS 1995
September 28 - 30, 1995

---
The 6th Annual Mayberry Days got off to a great start on Thursday, September 28th, with the Annual Mayberry Days Golf Outing. Special guest Richard O. Linke was on hand to add to the Mayberry flavor of the event. Mr. Linke was the Associate Producer of "The Andy Griffith Show" and Andy's manager for over 30 years.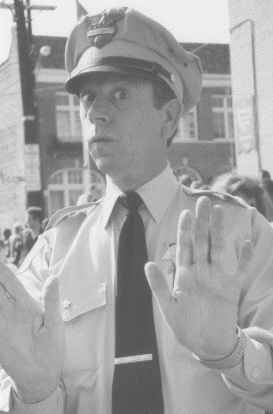 The caliber of golf wasn't all that great but the atmosphere was wonderful. Mr. Linke and our favorite Mayberry Deputy (David Browning) were in charge of the hospitality cart and gave free advice on how everyone's swing looked. Barney had us all shooting up in the hundreds by the end of the round.
After the round was over, we gathered for barbecue at the BIG Pig Pickin'. Prizes were given out by Barney (David), Ernest T. (Phil Lee), and Floyd (Allan Newsome) for everything from closest to the pin to highest score (that's right, HIGHEST score).
Doug Dillard (one of our favorite Darling boys) and Ginger Boatwright (Doug Dillard Band's lead singer) dropped by to say howdy and show off a quilt that Ginger has been making using TAGS Chapter T-shirts. It looks great. If you have a t-shirt to send, let her know and she'll add yours to the quilt, too.
At about 9 o'clock Thursday night folks started heading over to the Downtown Cinema Theater for a showing of "Angel in My Pocket" on the big screen. It was, like water and air, free but they did make a charge for refreshments. "Angel in My Pocket" and "The Ghost and Mr. Chicken" were shown all weekend at the Cinema on an alternating schedule.
The official start of Mayberry Days was at 11:00 on Friday morning out in front of the "Old Mayberry Jail". The Mayor of Mt. Airy, Mayor Taylor, read the Mayberry Days Proclamation. Deputy Fice (ehh, Fife) was on hand to control the crowd and try to slow down Ernest T. Bass. (He'd kill him.)
Jim Clark, Presiding Goober of TAGSRWC, was given the Key to the City by Mayor Taylor (though she called him "Dick" Clark and we're not planning on letting him live that down anytime soon).
There was Bingo for those that wanted to take the living easy and slow, Bluegrass music for the toe tappers, and Walking Tours of Mt. Airy for anyone willing to walk. There was something for everybody.
The Doug Dillard Band put on a Mini-Concert at 3:30 pm because the 7:30 pm performance was sold out and Doug didn't want anybody to walk away unhappy.
The Annual TAGSRWC Meeting/Dinner got underway at 5:00 pm with picnic baskets prepared by Aunt Bee. Jim Clark read off 53 chapters that he had spotted earlier in the day and asked if there were any he forgot. He'd only missed 3 chapters. He felt bad but I thought 53 out of 56 was pretty good. We had chapter reports and gave away door prizes. There were 312 tickets sold for the meeting/dinner and could have sold more but they ran out of fried chicken.
"Who's Been Messin' Up the Bulletin Board?" was well represented. I forgot to ask all of them to come to the front after the meeting so we could all meet. I did meet most everybody from our chapter that was there but I'm not sure they all met each other. I'll do better next year.
Then we were off to the 6th Annual Doug Dillard Band Mayberry Days Concert. Doug and the Band were at their usual best playing tunes from TAGS that you'd all remember along with some of the Bands own hits. Of course Barney, Ernest T., and Floyd were on hand to add to the Mayberry feel.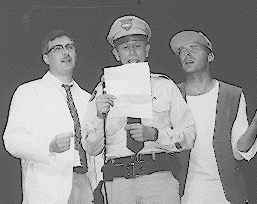 Barney even honored the audience with a rendition of "The Ballad of Andy and Barney" and was joined by Ernest T. and Floyd for "Oh, My Darin' Barney Fife". Both were BIG hits with the crowd. Not to be out done, Floyd sang a song he was working on for the Founders Day Pageant called, "Hail to Thee Miss Mayberry." It was all loads of fun.
Saturday started off with the Mayberry Days Parade. It was the biggest parade in the 5 year history of the parade. I won't say much about the parade because you've all seen parades before. One highlight though was Otis (Joe Rowland) riding down Main Street on his "horse" (actually a Long Horn Steer). It was a sight.
There was more Bingo, Aunt Bee's Bake Sale, and stuff for the kids up in the "Andy Griffith Playhouse" parking lot.
At 2:00, Mrs. Wiley's Tea got to a 'rockin' start with Oliver Gossage there to 'heft' anybody that would let him. (He'd put you down just as soon as you'd say.) Then on to the Pie Eatin' Contest and the Flower Judging. Floyd won first prize for his Pansy's in the Flower contest and a picture of Aunt Bee's rose won in that division.
Then off to the Trivia Contest where the winner was "Who's Been Messin' Up the Bulletin Board?" member Paul Mulik. I never had a doubt that he'd win. Good job Paul.
To wrap up the weekend in true Mayberry style, Colonel Tim's Talent Time started at 7:30. Every year this show becomes more and more fun. I can't mention all of the Great talents that we have in Mayberry because there are just too many. All the impersonators came on stage at one time or another. It was great. Barney (David Browning) hosted the show with Floyd (Allan Newsome) and Ernest T. (Phil Lee) joining in from the start.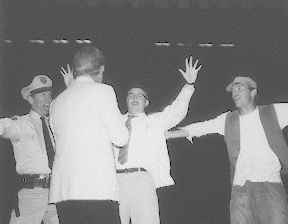 Former look-a-like contest winners, Sterling White (Andy Taylor) and J.T. Garrett (Barney Fife), also joined the gang in adding to the Mayberry spirit of the evening. Barney (David Browning) sang his songs again and more fun than you can shake a stick at was had by everyone.
Oh, and I should mention the performance of "good ole 14-A". Barney was at his best. His voice filled that great auditorium. He was joined by members of the audience that made up "The Mayberry Choir."
You need to make plans to attend next years Mayberry Days. It gets better every year.
Let me hear what you thought of the events if you attended. I'd love to hear from you and I'm sure everyone else would too.
---
Allan Newsome (Anewsome@aol.com)
"Mother Figure" Chapter - Huntsville, AL &
"Who's Been Messin' Up the Bulletin Board?" Chapter - Internet
TAGSRWC