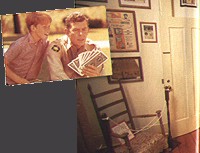 To most tourists this town in the shadow of the Blue Ridge Mountains is indistinguishable from Mayberry, the rustic setting for The Andy Griffith Show and its spinoff Mayberry RFD. Griffith, born here in 1926, left for the University of North Carolina in 1944; Emmett Forrest, 68, his classmate through high school--"We hung out together," he says, "goofing around"--stayed put, became a vice president of a power-line construction company and spent three decades collecting Griffith memorabilia. "I had it on the walls and in boxes," says Forrest. "Then we moved out of the house into a condo." The collection is now on display in its own nook at the Visitors Center.
Artifacts: the suit he wore playing a lawyer for nine years on Matlock (Griffith donated this item himself) and the cover for his 1959 album Andy Griffith Shouts the Blues and Old Timey Songs.
Must-see curio: the white-and-orange plastic wrapper that was once the casing for an Andy Griffith Whole Hog Sausage, part of a line of food products that the actor lent his name to back in the '60s. "I got that at a memorabilia auction," says Forrest, who talks to Griffith by phone every few months. "I paid $267."
(800) 576-0231 for more information.