---
'WELL, GAULEE!'
Small town connection: The Andy Griffith Show Rerun Watchers Club has ties to the loveliest village on the Plains

By Andy Acton
Assistant A&E Editor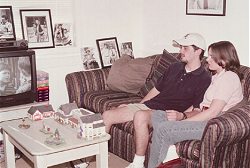 TRISHA O'BRIEN/Photo Editor
Jeff Molock and his girlfriend Melissa Hooks sit back in his apartment to watch Opie and the Mayberry gang. A miniature village of Mayberry sits on the coffee table while other memorabilia cover the walls.
Before there was a show about four neurotic New Yorkers who met in apartments and restaurants, there was a show about several small-town folk who hung out at barber shops, jails and Aunt Bee's kitchen.
And while "The Andy Griffith Show" went off the air in 1968, the legacy of a small town named Mayberry has been carried on in syndication for 20 years.
The show has been so popular loyal viewers can be a part of the town's local chapter of The Andy Griffith Show Rerun Watchers Club (TAGSRWC). In fact there are some local chapters with connections to Auburn.
"Auburn and Mayberry have the same school colors -- orange and blue, " said Jim Clark, president of TAGSRWC and editor of The Bullet, the club's newsletter.
Clark, known by club members as "Presiding Goober," started the club in 1979 with other students at Vanderbilt who gathered to watch reruns of the show.
"Soon we got big enough to where we needed an outlet so we could communicate with a large number of people," Clark said. But "big enough" is probably an understatement for the growing number of fans who have joined the club since 1979.
Clark said TAGSRWC has thousands of members with over 1,050 chapters in all 50 states and about 20 countries. There's even a chapter on the Internet called "Who's Been Messing up the Bulletin Board?" This chapter, which is a prominent feature on TAGSRWC home page, is operated by 1989 Auburn Alumnus, Allan Newsome.
"I just started playing around, and I thought I'd make a Web page," Newsome said. "It has grown over time and has evolved from one page to one site." Newsome is also the co-founder of Huntsville's local chapter "Mother Figure," a quote of Mayberry's mischief-maker Ernest T. Bass.
"It's a good stress reliever," Newsome said of the chapter which he and his friends started at the University in 1987. He said when they participated in the chapter at the University, they would have a rerun party. "We would fit as many as we could get in a trailer," Newsome said. Newsome continues to host rerun parties in Huntsville.
"Every May, my wife and I have people come over to the house to watch the show," he said. "We usually have a couple of TVs hooked up in two different rooms and people watch episodes that have been taped and look at the memorabilia I've collected."
Although Newsome, an Auburn engineering graduate, is a fan of the show, some fans and club members might know him better as Mayberry's barber Floyd Lawson. Newsome said David Browning, a Barney Fife impersonator, encouraged him to play Floyd at a Mayberry event. "I started talking like Floyd, and he (Browning) thought I was pretty good and encouraged me to dress up like Floyd at Mt. Airy, N.C., annual Mayberry Days festival," he said.
Newsome agreed to dress as Floyd, but he said he expected it to be the only time he would impersonate the character. "After the first time I started having people call and asking me to be at their local function," Newsome said.
He said he enjoys dressing as Floyd because of the smiles he gets from people when he says a line that character might have said on the show. "I've met a lot of really nice people," he said. "It's something I never thought I'd do, but it's a lot of fun."
It is fun that seems to make fans out of club watchers.
"It's a funny show," said Albert Culbreath, a 1983 graduate and co-founder of the "Never Hit Your Grandma With A Great Big Stick" chapter. "It's a fun thing to watch and know everything is going to work out in the end." Culbreath said he and his roommate Alan Sparkman began their chapter as students after they read a Lewis Grizzard column about TAGSRWC.
"We wrote to Jim Clark, and he told us to pick a name. And if it wasn't the same as another chapter then our chapter was official," he said. Culbreath, a plant pathologist at Georgia, said when he graduated, the chapter was unofficially moved to Tifton, Ga.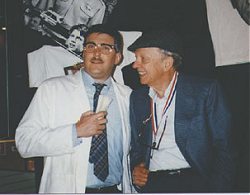 CONTRIBUTED BY ALLAN NEWSOME
Allan Newsome, dressed as Floyd Lawson the barber, poses with Don Knotts, who played Barney Fife on TAGS, at "An Evening with Don Knotts" in Birmingham.
"It's still a live and loosely knit organization," he said.
While there are more than 1,050 chapters, Clark said only 800 of them are still active. "A lot of college chapters meet for four years, and then they disperse," Clark said.
One local chapter from Opelika, "You Smell Gas? I Smell Gas," composed mostly of employees from Opelika's Parks and Recreation Department, has been inactive for two years. Reid Pope the chapter's head said the main factor that has kept the chapter from meeting has been time. "We had 20-30 people meeting at one time," Pope said. "But athletic events have kept us from meeting on a regular basis. We hope we can start back this summer of fall."
Pope said the chapter was started in 1994 because everyone at parks and recreation was a fan of the show and enjoyed talking about it with other employees. "Someone was getting a copy of the newsletter, so we decided to send in a name for the chapter," Pope said. "We'd come and bring favorite episodes, have trivia games and give away prizes associated with the show."
Pope said television has changed since the time the show was on the air. "You don't have that kind of humor on TV anymore," he said.
The moral appeal of the show is another reason some viewers continue to watch the show. "It's hard to find shows with such down home simplicity that I could watch with my kids," said Rev. Bob Harvey of West Auburn Baptist Church. Harvey said he has every episode on tape and often writes about the life lessons of the characters from Mayberry in the church's newsletter, and he occasionally makes it a topic of his Sunday sermons. "Andy's relationship with his son Opie is precious," Harvey said. "It draws parallels with spiritual truth."
Clark said he believes the show is still popular because of its values. "It's wholesome, families can watch it together," he said. "It's also nostalgic, and the show goes back to a simpler time that maybe never was."
Jeff Molock, a junior in secondary education, said the show was just clean fun. "The show doesn't have to use anything vulgar to be funny and it's Southern," he said. Molock said he hopes to become a member of his hometown chapter in Gadsden. The chapter, "The Gold Truck Welcoming Committee" became the club's 1,000th chapter. "They formed it while I was down here, so I haven't been able to go to any meetings," he said.
Molock said he also hasn't met anyone in Auburn who is a fan of the show. "I haven't met anybody that's as big of a fan as I am," he said.
---
© 1998 The Plainsman