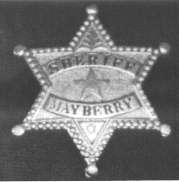 Early this month, Randy Shields, Joel Rasmussen, my brother, Brett Creech and myself flew out to Hollywood to see if we could find a little bit of "Mayberry" that just might still exist from the original series. As everyone knows, the original sets and streets of "The Andy Griffith Show" are long gone, but you'll be surprised at the things that we did find.

We had made plans to meet with Hoke Howell (Dud Wash) around noon on our first day, so to fill in the morning we decided to see if we could find the Franklin Canyon Reservoir. That's where they filmed the scene in the opening credits of "The Andy Grifflth Show" as well as some of the Myers Lake scenes. From looking at the map, it was going to be short, 15 minute trip from where we were staying (the Beverly Garland Hotel). The problem was that the road that we were looking for and driving past repeatedly was unmarked, so it took us a little more than an hour.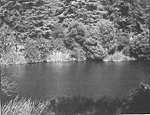 Once we found the reservoir, we knew that we were in the right place. Although it was a little smaller than one would think, it was just how you would picture it. A beautiful lake surrounded by pine trees and cat tails, with an occasion- al splash by a jumping fish (I 'm sure that it was "Old Sam"). Since this was a reservoir, it has been preserved to keep its natural beauty, which is a rarity in Los Angeles. While walking around the lake I found the bottom of an old row boat that I immediately decided was part of the one that was sunk in the fishing contest that Andy and Barney had entered with the jinx, Henry Bennett.
Later that morning we all jumped in the truck and headed over to see everyone's favorite "Dud," Hoke Howell. He allowed us to view photos from a number of different movies and t.v. shows that he had been in over his career. Hoke says that he's doing great since his heart surgery in June and has gone back to work. He was in a recent episode (Oct. 7) of "Promised Land" with Gerald McRaney on CBS.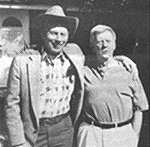 Hoke then drove us to pick up Rance Howard (Ron's father) and then on to "The Smoke House" restaurant where we listened to stories of the filming of ';The Andy Griffith Show." Rance told us about one of the well known bloopers in the episode "A Black Day For Mayberry." He said that there was originally two other actors cast as the U.S. Treasury agents and during the filming one of them suddenly stood up and said, "I apologize if I have offended anyone" and at that time collapsed into a seizure. It was then that Rance Howard was approached and asked to fill in. The only problem was that the suit for the part didn't fit Mr. Howard, so they put him into one of Andy Griffith's and that is why you see two different actors wearing different suits playing the same character in the same scene.

If I was to tell you that was the extent of our trip, most people would think that that's quite a lot. It's not everyday that you get to throw a rock in Myers Lake and then go have a 3 hour lunch with Rance Howard. Now that's a pretty good day, but that's not all.
On our second day, none other than Richard O. Linke drove over to our motel where we went down for a quick breakfast, after which he drove the four of us to his home to see a few things that most people would pay to see.

First of all he showed us an award from TV Guide presented to "The Andy Griffith Show" for the best comedy series in 1960-61. There was a long story about how it had changed hands over the years but as it turned out, Mr. Linke had to purchase it back from a memorabilia collector in Hollywood. He took us on a complete tour of his home pointing out photos and gift from cast members of "The Andy Griffith Show."

After visiting for about 30 minutes, he then brought out the big artillery. Upon returning from a secret spot in his house, he opened a small leather case that contained three very important items. One Mayberry deputy badge and two Mayberry Sheriff badges. It was hard to believe that I was holding the original badges that were worn by Andy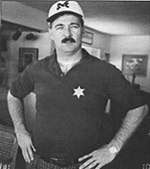 Griffith and Don Knotts in my own two hands. So my next move was to do what any big fan of "The Andy Griffith Show" would do, I pinned one on and got a quick photo that will soon be hanging on the wall over my desk.
After we regained our composure, Mr. Linke drove us to the Lakeside Country where he was a president at one time. While we were there, he told us the names of many past and present members that included Tom Selleck, John Wayne, Bob Hope, Lou Costello, Kevin Costner and many, many more.
Upon our return to the motel around one o'clock, we found out that we were going to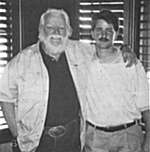 have a meeting with Denver Pyle (Briscoe Darling) at his office. He was originally going to meet us for lunch with Rance and Hoke the previous day, but was out on an audition for a new series titled "Firehouse 421," so let's keep our fingers crossed and hope that the casting director will use good judgment and choose Denver.
Our next two days were pretty much spent at the Hollywood Collectors Show that was being held at The Beverly Garland Hotel where we were staying. That's where we met Arlene Golonka for lunch on Saturday. She mentioned that she will be in an upcoming movie with James Coburn and she continues to teach at her acting school.
There were many exiting moments on our trip other than meeting our Mayberry friends, such as going back stage on The Tonight Show and meeting Jay Leno or having our photos taken with stars like David Carradine, Larry Storch and Norman Fell, there was another Andy Griffith connection.
Early in the week we met Daniel Roebuck, who played Cliff Lewis on "Matlock" or you may have seen him playing Jay Leno in an HBO movie titled, "The Night Shift." He mentioned that Andy Griffith was going to be in an upcoming "Diagnosis Murder" episode with Dick Van Dyke and the entire cast of "Matlock" would be getting together for a two hour movie real soon.
So as you can see, our trip was like a dream come true for any big fan of The Andy Griffith Show. We had originally planned this trip to attend the Hollywood Collectables Show and hopefully try to meet a few of the cast members there, but we had no idea that it would turn out this way.