---
Airing on The Travel Channel
April 7, 2002 from 9-11 PM (ET/PT)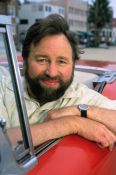 Host: John Ritter
TV Road Trip is a wonderful trip down memory lane for any fan of classic TV but it's a special treat for fans of The Andy Griffith Show. In the second segment of this special, hosted by John Ritter, classic TV fans are spirited away to Mount. Airy, North Carolina. Mount Airy is the real life hometown of Andy Griffith and is the town on which Mayberry is based. George "Goober" Lindsey acts as our guide through the streets of Mount Airy where we are able to visit The Snappy Lunch, Floyd Barbershop and other locations around the town.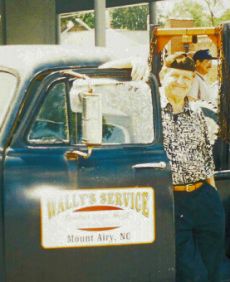 George "Goober" Lindsey at Wally's Service in Mount Airy, NC
Some of you may wonder, "What's The Snappy Lunch and how is it related to Mayberry?" The Snappy Lunch was mentioned on episode 9, "Andy the Matchmaker" when Andy commented that he was heading over there for a pork chop sandwich. TV Roadtrip takes you right to the tables of "The Snappy" and Charles Dowell takes time out from cooking to show "Goober" how to make one of his famous sandwiches. If you ever take a trip to Mount Airy, be sure to get a "pork chop all the way."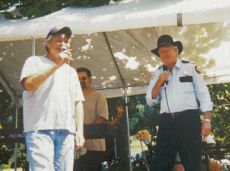 Ben "Cooter" Jones and James "Sheriff Roscoe P. Coletrain" Best visit with fans.
Mayberry fans have at least one more reason to watch TV Roadtrip as in another segment we get to visit with James Best who played guitar player Jim Lindsey on The Andy Griffith Show but who is best known as Sheriff Roscoe P Coletrain on The Dukes of Hazzard. James and Dukes co-star Ben "Cooter" Jones take us on a visit to Hazzard county and the stomping ground of Bo, Luke and Uncle Jesse (Denver Pyle also from The Andy Griffith Show).
TV Roadtrip also visits Walton's Mountain, Southfork, the Ponderosa Ranch, Gotham City, Metropolis and other great locations where some of our favorite classic show were filmed. Some of the other stars you'll be visiting with are Ken "Cliff Barnes" Kercheval from Dallas, Mary "Erin" McDonough from The Waltons, Noel "Lois Lane" Neill and Jack "Jimmy" Larson from The Adventures of Superman, and more! Be *sure* to set those VCRs to record this two hour trip back in time to some of our hearts favorite places. You're going to enjoy this trip down memory lane.
| | | |
| --- | --- | --- |
| Christopher "Peter Brady" Knight in front of the home used for The Brady Bunch. This home is just around the corner from Howard "Floyd the Barber" McNear's actual home. (You won't hear than on the special though.) | | Adam "Batman" West and the Batmobile from the 1960's hit series. |