The Andy Griffith Show Rerun Watchers Club
TAGSRWC
USA Today - Life
---
03/27/96 - 09:58 PM ET 
GOSPEL ARTISTS
---
Andy Griffith has hit with homespun hymns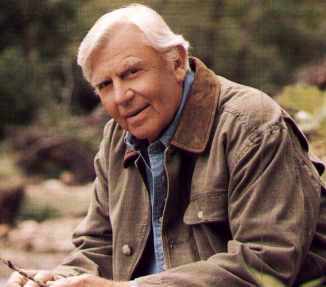 Glory be! Andy Griffith has a hit album, and that's the gospel truth.
Through the miracle of TV ads (homey, no hard sell), the actor's hymn collection has sold nearly a half-million copies since October. Next week, a repackaged 25-song sampler, I Love to Tell the Story, will reach stores.
Not bad for a country boy from Mount Airy, N.C., who was told at a 1952 audition he would never make it in theater, "especially as a singer."
"I was a voice major in school and taught high-school choral music," says Griffith, 69, who also trained to be a minister. "I did sing a little now and then, but nothing like this."
The elaborate effort is a far cry from the way his sheriff Andy Taylor would serenade Helen Crump on the old porch swing on The Andy Griffith Show. Griffith puts a fine shine on what a preacher buddy calls "old chestnuts." As for his pleasant baritone, imagine Tennessee Ernie Ford crossed with your next-pew neighbor.
Does Griffith think there's a hunger for sacred music? "Oh, there is, there is," he says, quickly adding, "I'm not a member of the religious right. I am a Democrat and proud to be one. But I think Democrats are good Christians, too."
Now that Matlock is retired (it may return as specials on cable's Family Channel), Griffith is having a ball doing villains. In the recent NBC movie Gramps, he was a psycho for the Geritol generation. Ratings were limp, though. He was up against the wedding episode of CBS' Dr. Quinn, Medicine Woman. Drawls Griffith, "It's hard to beat a 39-year-old virgin getting married."
He'll next menace Leslie Nielsen in the James Bond spoof Spy Hard this summer. For his trouble, notorious prankster Nielsen gave him one of his whoopie-cushion contraptions. Admits the low-key Griffith, "I have not found the proper court for it yet."
He's about to celebrate his 13th anniversary with third wife Cindi, 41. They live on 68 rustic acres on Roanoke Island in North Carolina.
In January, his estranged son, Andy Jr. - who had a history of alcohol abuse - was found dead in his L.A. home at age 38. Griffith's quiet response: "It's very painful."
The actor, however, is proud of the film-directing success of TV son Ron Howard. After a Today show stint, he and Mayberry sidekick Don Knotts visited Opie on the New York set of Ransom. They told him, "We're over here to see you. But we're also looking for a job." Howard, Griffith says, "looked a little embarrassed."
By Susan Wloszczyna, USA TODAY
---
---