---
Arab, Alabama

Keith & Kathy Thibodeaux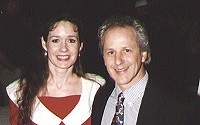 It was a cool fall evening in 1997 when I made a trip to the Birmingham Civic Center to see one of my childhood idols; a guy who had been my role model in my younger days. He was one of five cast members from a super-popular 1960s television sitcom who were making a public appearance together. Perhaps you remember the television program - "The Andy Griffith Show" (TAGS). No, it wasn't only Don Knotts (Barney Fife), Betty Lynn (Thelma Lou), Elinor Donahue (Miss Ellie), or Maggie Peterson (Charlene Darling) that I was there to see. I certainly enjoyed meeting all of those excellent performers, but it was a young actor who made only a dozen or so appearances on TAGS that I really wanted to meet.
He portrayed one of Opie's (Ron Howard) friends, Johnny Paul Jason, on the show. But that wasn't the character the youngster played in which he became my idol. Instead, it was his portrayal of Little Ricky on "I Love Lucy" that caught my attention. I often thought how fun it must have been to be Little Ricky. He was famous, his parents were famous, he wore spiffy clothes, he played the drums, and he had the neatest toys that I had ever seen. How I would have loved to have been Little Ricky!
The five cast members from TAGS opened the show in Birmingham with a little entertainment. Don Knotts did some funny comedy routines before Betty Lynn, Elinor Donahue and Maggie Peterson entertained the audience with their singing. Then the guy that I was so anxious to meet did a blistering routine on the drums that brought the crowd to its feet. After a question and answer session with the audience, the cast members left the stage to sign autographs for fans.
I had a lengthy wait in line before I could meet this idol from my childhood, but that didn't deter me. As I neared the end of the line I could hear him talking to other fans. He was very cordial and patient with everyone, and even appeared to be a little shy. Like the rest of the cast members, he seemed surprised that approximately twenty-five hundred fans didn't mind waiting past midnight to meet them. Then, it was finally my turn. I introduced myself and told him that I was from a little town that I was sure he had never heard of - Arab, Ala.
"Oh yeah, I know where Arab is," he replied. "When I was the drummer for David and the Giants we played in Guntersville every year, and we had to go right through Arab to get there."
Needless to say, I was surprised to learn that he had actually driven through the small town of Arab. We talked on for a minute or two while he signed a picture for me, and also took the time for us to pose together for a photo. I knew others were waiting to see him, so I shook hands with him and gave up my spot in the line. I felt like a kid again as I strolled down the walkway. It was almost as if I had gone back in time. Childhood memories suddenly flooded back to an earlier era when I had lain in the living room floor and watched "I Love Lucy" and "The Andy Griffith Show" on our old black and white television. Those recollections were some of the fondest of my early years - a time when life wasn't near as complex as it is today.
---
Keith Thibodeaux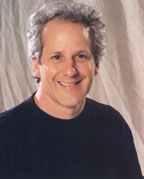 Keith Thibodeaux was born on December 1, 1950, in Lafayette, Louisiana. (His family would move to Bunkie, La., when Thibodeaux was two years old.) He was the oldest of five children born to Lionel and Mary Ann (Chitty) Thibodeaux. Even though he did not come from a musical family, his earliest memories are of listening to music and keeping time by beating on pots and pans with sticks, knives, and forks. Afterwards, he graduated to banging on metal trash cans in the family's back yard. By age three, Thibodeaux was playing drums professionally.
"I never had a lesson," Thibodeaux says. "My talent for playing the drums was a gift from God. Dad bought me a toy drum one Christmas, and I eventually destroyed it. I wanted a real drum and he bought me a snare drum. Dad continued to buy me one drum after the other."
Thibodeaux soon began performing at local Lion's Club meetings and high schools in the area. His uncle made arrangements for the young drummer to make an appearance on the Horace Heidt Traveling Variety Show when it came to Lafayette, La., in 1954 for a talent contest. Thibodeaux won the contest and Heidt hired him as a regular on his show two weeks later. (Heidt's show aired on television each Saturday night.) Lionel Thibodeaux quit his job at United Gas Company and accompanied his son as they toured the U.S. and Canada.
But it wasn't until two years later that the father and son would walk into Desilu Studios in California and change television history. That was the day Keith Thibodeaux auditioned for the part of Little Ricky.

I Love Lucy
Keith Thibodeaux as Little Ricky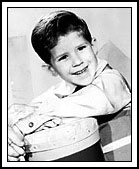 When Thibodeaux walked into the studio in 1956, he was unaware that over two hundred youngsters had already auditioned for the part of Little Ricky, the new TV son of Lucille Ball and Desi Arnaz. After being introduced to Lucille Ball, the redhead asked Lionel Thibodeaux if his son had studied acting. When she was told that he had not, Lucy impatiently asked, "Well, what does he do?"
"He's a drummer," the elder Thibodeaux replied.
Desi Arnaz walked in at that point and introduced himself. It was then that someone noticed a set of drums on the adjoining set of "The Danny Thomas Show". Everyone walked over to the drums and an air of excitement came over Lucy and Desi as Keith began to play. Desi walked over and asked if he could play. They alternated back and forth on the drums for a while before Keith Thibodeaux heard Lucy exclaim, "This is the kid! This is him! This is Little Ricky!"
Not only did the youngster have the musical talent to portray a bandleader's son on television; he also resembled his soon-to-be TV dad. Apparently, that was enough for Desi and Lucy, and "the drummer from Bunkie, Louisiana" was signed on as Little Ricky. Desi, however, did not think that most people would be able to pronounce Thibodeaux (tib-uh-dough), and suggested that the youngster change his stage name to Richard Keith. Even though it was never listed in the credits, Thibodeaux would use the stage name during his tenure on the show.
The role of Little Ricky made Thibodeaux the most well-known child actor on television over the next four years. In fact, most of the general public believed that Thibodeaux was Lucy and Desi's own son. One of the reasons was that Lucille Ball gave birth to Desi Arnaz, Jr., the same day that the episode of Little Ricky's birth aired on television. The coincidental births made many television viewers think that Little Ricky's character and Desi Arnaz Jr. were one in the same. Some still do to this day.
Thibodeaux made his debut on "I Love Lucy" shortly after his audition. A Hollywood heavyweight often guest starred on the show and that was the case with Thibodeaux's initial episode. Bob Hope portrayed himself in a guest star appearance, and Lucy disguised herself as an usher at a baseball stadium in an attempt to talk to the Hollywood legend. Hope ends up getting hit in the head with a foul ball due to the redhead's constant distractions. Even though it marked his debut and was a memorable episode, it was not the one that Thibodeaux remembers the most. His favorite episode came when George Reeves appeared on the show as superman.
"Superman was my hero at the time," Thibodeaux says. "George Reeves was really Superman in my eyes. For him to come on the set and be there was a treat for me. When he shook hands with me I thought, 'He really is Superman.'"
Thibodeaux became quite close with Lucy and Desi while working on the show. He was a frequent guest at the Arnaz household, and spent a lot of time with the couple's children, Lucie and Desi Jr.
"We were childhood friends. In fact, I was one of the few trusted people that Lucy allowed to play with their kids. I spent time at their summer home, rode horses at their ranch, and swam at their beach house. I even spent a Christmas with them at Palm Springs one year."
Thibodeaux thinks of Desi Sr. as a very talented man who did not get his due in Hollywood.
"He basically lived in the shadow of Lucy. He really had a lot to do with the formation of the show. He set up the three-camera sitcom arrangement that shows still use today. I felt very secure around him. We really had a rhythmic connection since he played the Congas and I played the drums. We also connected because he had a foreign name and I had a name that they had to change because nobody could pronounce it."
The star of the show, however, was the beautiful redhead that it was named after.
"The first thing I think of when I hear the name of Lucille Ball is a Hollywood legend. I have fond memories of growing up at her house, but she was a different person off the set than she was on the set. She was very professional on the set. The cast called her Lucy, but everyone else called her Mrs. Ball. She was honest with people. If she liked you, you knew it. If she didn't, you knew it, also.
"Lucy took care of me on the set, and made sure that none of the crew cussed around me. She also had birthday parties for me and made sure that they were well attended. She and Desi gave me many gifts over the years - among them were a bicycle, a full-size Indian teepee, and a set of drums."
Thibodeaux also has fond memories of co-stars William Frawley and Vivian Vance who played Lucy and Ricky Ricardo's best friends and neighbors Fred and Ethel Mertz on the show.
"Bill (William Frawley) was just a good ole boy. He was sort of like his character on the show. He would meet me at the doughnut table and ask, 'How's the world treating you today, Keith?' Many of the older Hollywood actors didn't have much to do with kids, and I remember that it meant a lot for him to speak to me every morning."
At the time, Vivian Vance was married to Fort Payne, Ala. native Phillip Ober.
"She was a nice lady who came there to do her job. We got along well and I called her Viv. She knew her role to play in the show and she did it well."
"I Love Lucy" ended in 1960 when Lucille Ball and Desi Arnaz divorced. Thibodeaux continued his acting career by appearing on a number of television episodes, including "The Shirley Temple Playhouse," "The Farmer's Daughter," "The Joey Bishop Show," "Route 66," and many others. In 1962, he appeared on another weekly television show that, like "I Love Lucy", was to make TV history.

The Andy Griffith Show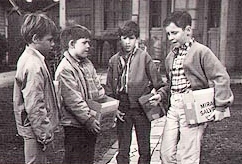 Keith Thibodeaux (second from the right) plays the role of Johnny Paul Jason, Opie's best friend, in this scene as the guys attempt to sell Miracle Salve.
Thibodeaux auditioned for "The Andy Griffith Show" and won the role of Johnny Paul Jason, Opie's best friend. It wasn't a big part, but Thibodeaux made several appearances on the show over the next four years. As it turned out, he was more comfortable working on a television series that was set in the south.
"I would rather have played a character like Opie than Little Ricky. Little Ricky was the All-American boy in a New York kind of way, but I'm an old southern boy. I liked Huckleberry Finn and Tom Sawyer, and that is the kind of character that I would like to have played. That would have been more in tune with who I really was."
Thibodeaux appeared on a dozen or so episodes of TAGS. One was titled "Andy Discovers America". In that episode Andy gets in hot water with Opie's schoolteacher when he criticizes her history curriculum in front of Opie and his pals. Thibodeaux appeared as one of the wide-eyed kids who is captivated by Andy's revised version of Paul Revere's famous ride. Another episode is titled "Opie and His Merry Men". Opie and his pals befriend a lazy hobo who tells them that lawmen cannot be trusted. Thibodeaux is seen wearing a Robin Hood-type hat, and appears as a member of Opie's merry men. The hobo claims to have a game leg, but takes off running when Andy offers to get him a job that will accommodate his bad leg.
Thibodeaux got along well with all the cast members, but was closest to Ron Howard (Opie).
"We used to go and get hamburgers together in the commissary, or play catch with a baseball when we weren't shooting. I was four years older than Ron and found out that he looked up to me. I didn't know it until I did my first episode, but my former teacher, Catherine Barton, was also Ron's teacher on the set of "The Andy Griffith Show". She had told Ron some stories about me when she was teaching me on "I Love Lucy". Ron asked them to cast me in episodes with him whenever they could."
Thibodeaux's appearances on TAGS ended in 1966 when his parents divorced and the young drummer/actor moved back to Louisiana from California with his mother and siblings. He graduated from Lafayette high school in 1968 and attended the University of Southwestern Louisiana for a while. He also helped support his mother by playing drums in a variety of bands.

David and the Giants
David & The Giants: Brothers David, Rayborn and Clayborn Huff. Keith Thibodeaux (second from right), who played Little Ricky on the "I Love Lucy" show, played drums with them in the early days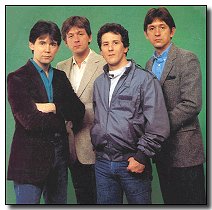 By December of 1969, Thibodeaux had become a member of David and the Giants - a popular rock band that played mostly around the south. Almost immediately Thibodeaux's alcohol and drug abuse escalated, something that had began during his high school years. His life seemed to spiral out of control over the next few years until two major events occurred in his life. In 1976 he met Kathy Denton at a David and the Giants concert in Jackson, Mississippi. The couple was married after a three-month whirlwind courtship, and Thibodeaux left the rock band.
"It was definitely a turning point in my life. It was like I met someone who was sent from God. We just celebrated our 25th wedding anniversary."
The second major event happened in 1978 when Keith Thibodeaux was baptized as a Christian. Christianity had been something that the drummer had flirted with in the past. Yet, this time it seemed different. He said that he truly felt like a new man, and that the world looked different to him.
Things had also changed for David and the Giants. The leader of the band, David Huff, as well as his twin brothers Clayborn and Rayborn, had accepted Christ and became Christians. In 1979 Thibodeaux rejoined the band, now a Christian version of David and the Giants, and remained with them until 1989.

Ballet Magnificat!
Keith & Kathy are founders and directors of Ballet Magnificat!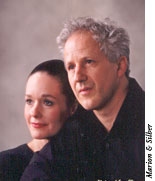 While her husband was performing with David and the Giants in 1986, Kathy Thibodeaux founded Ballet Magnificat!, the world's premier Christian ballet company. Headquartered in Jackson, Mississippi, the touring company performs over 80 times annually throughout the United States and Canada while their school of the arts serves approximately 550 students. Kathy, who began ballet dancing at the age of eight, was a silver medalist in 1982 at the II USA International Ballet Competition.
Keith Thibodeaux became the executive director of Ballet Magnificat! in 1989. He spends much of his time traveling with the touring company, assisting in scheduling ballet performances, and overseeing the schoolyards and concerts.
Keith and Kathy Thibodeaux have one child, a 22-year-old daughter named Tara. She lives in Atlanta and is a member of the Atlanta Hawk's cheerleading dance squad.
---
Keith Thibodeaux has remained a popular fixture with television fans over the years. In fact, syndication has allowed a new generation of fans to become acquainted with Little Ricky and Johnny Paul Jason. Many fans have also had the opportunity to visit with him in person at the Mayberry events that he attends with other TAGS cast members.
I purchased a copy of Keith Thibodeaux's book, Life After Lucy, shortly after meeting him in 1997. What I found most fascinating about the book was Thibodeaux's brutal honesty. Like all of us, he had made mistakes during his life. The only difference is that most of us wouldn't have written a book about them for all the world to see. I admire him for that. But he didn't use the book to condone what he had done in the past. Instead, Thibodeaux shared how Christ turned his life around, and that He can do the same for anyone. I admire him for that, too.
I didn't really expect to be able to interview Keith Thibodeaux when I phoned his office late last year. I was aware of his hectic schedule, and it seemed that every media organization in the world wanted to interview him about the upcoming 50th anniversary of "I Love Lucy". Thibodeaux's office told me that they had already received calls from Larry King Live!, Reader's Digest, The National Enquirer, and a few others that I have forgotten. Needless to say, I was surprised when his office called me back a few days later to set a date for my interview with him.
Not surprisingly, Keith Thibodeaux was the same cordial person when I interviewed him as he had been when we met in 1997. In addition to the interview, we shared a few laughs and talked about our families. I found him to be a true gentleman and a class act.
Yes, Little Ricky had been my childhood idol while growing up. He led a perfect childhood and had perfect parents. But Little Ricky was only make-believe, someone who was simply a character on my family's old black and white television set. Keith Thibodeaux is a real person with real qualities. He loves his God, his family, and his fellow man. I think that is the type role model we need now more than ever.

Editor's Note: "The book "Life After Lucy" by Keith Thibodeaux with Audrey T. Hingley is available on amazon.com, or you can order the book from the following website: www.balletmagnificat.com
Webmaster's Note: You can also get Keith's book at Weaver's Department Store here at iMayberry.com