I first saw Allan Newsome at the Don Knotts concert in Birmingham on June 29th of this year where he was doing a fine impersonation of Floyd Lawson, the barber on The Andy Griffith Show (TAGS). Sporting a mustache and glasses, he bore a strong resemblance to the bumbling barber from Mayberry. Dressed in a barbers coat, complete with cutting utensils in the front pocket, he offered his opinion to people about their hair in the same metaphorical voice and mannerisms with which Floyd so aptly entertained us over the years.

The second time I saw Allan was on September 4th, when I interviewed him at his home in Huntsville, Alabama. He was raised in Henagar, Alabama, attended Sylvania High School, graduated from Auburn University, and has spent the last seven years in Huntsville where he works at the Missile and Space Intelligence Center.

While talking to Allan, I was amazed at the vast amount of knowledge he had of The Andy Griffith Show. Like many Mayberry fans, I have watched the shows dozens of times and considered myself to be somewhat of an expert when it came to Andy Griffith. Unlike myself, Allan does not need to refer to trivia books to name a particular show or quote dialog from them. I asked Allan if he had been a lifelong fan of the program.

"I watched when I was younger, but wasn't really hooked on the show until I was in college," he said. "I found it to be a good release from my studies."

In 1993, Allan and his wife, Jan, decided to attend Mayberry Days, an annual event held in Andy Griffith's home town of Mt. Airy, North Carolina. He found it very enjoyable meeting some cast members and fellow members of "The Andy Griffith Show" Rerun Watchers Club (TAGSRWC). He also had the opportunity to meet David Browning (better known as the World's Greatest Barney Fife impersonator) and would run into him again at an event called, Mule Days, held in Gordo, Alabama.

"After the days events were over, David Browning, the "Hardy Eatin' Men and Beautiful Delicate Women" Chapter of TAGSRWC, Jan and I, went out to eat," Allan said. "Over dinner, David said he liked the character of Floyd and I started mimicking him. David encouraged me to do the character."
Some impersonators chose other Mayberry characters to mimic such. as: Otis Campbell, Barney Fife, and Ernest T. Bass. Why did he pick Floyd to impersonate?
"I just kinda fell into it and I resembled him," Allan said.
There was more to imitating Floyd than simply looking like him however.
"I practiced doing the character by video taping myself." Allan said. "I made adjustments in my impersonation based on what I saw on the video. When I am impersonating Floyd in public I don't like to break character. I don't speak in my voice one minute then, switch to Floyd."
Allan has now met or seen most of the major cast members from the show who are still living. Among them are: Don Knotts (Barney Fife), Betty Lynn (Thelma Lou), George Lindsey (Goober), Bernard Fox (Malcolm MerriweTher), The Dillards (The Darlings), and Howard Morris (Ernest T. Bass).
"The cast members I've met are very nice and polite," Allan states. "They are real people just like everyone else."
There are many favorite characters from The Andy Griffith Show and everyone's sweetheart seems to be Betty Lynn.
"I was at an event when Betty Lynn was introduced to the audience and given a standing ovation while walking on stage," Allan said. "She became emotional to the point of tears because of the reception. She told me that she had always been appreciative of the love and support shown by the fans."

Allan's first public appearance as Floyd came in 1993 on Cooper & Company seen on WAFF-TV48 in Huntsville. He has also done television commercials for another station, WHNT-19, where he promoted Mayberry Nights (people dressed up as Opie and Aunt Bee) in association with the Huntsville Stars baseball team.

Not only has Allan met several of the actors who were featured in The Andy Griffith Show, he has even performed a skit with Jean Carson (one of the "Fun Girls"). The skit is based on the episode, Convicts-at-Large, where three female convicts hold Barney and Floyd hostage at a cabin.

"I have a lot of fun meeting the cast members, but the most fun is when I meet fans of the show." Allan said. "It's been a blessing. With all of the world's problems we hear about on television, it's nice to know there are still many fine, Christian people around."

So what do the fans say to him? "Some ask me if I am Floyd," he replied. "Some say they watch me on television everyday, and some ask if I am kin to Floyd."

Howard McNear, who played Floyd on The Andy Griffith Show, suffered a stroke after the Convicts-at-Large episode and was off the show for a year. Andy wanted McNear back on the program, but he couldn't walk without assistance or move his left arm. Andy had a special strap made which enabled Floyd to be shown standing behind his barbers chair.

According to cast members, in real life McNear was fee actor most like the character he played. Sadly, he died in 1969.

One of Allan's favorite moments came when he got to work with Don Knotts in Birmingham, and later at the Squad Car Rendezvous in Bradford, Ohio.

"Don Knotts is a very genuine person and extremely appreciative of his fans. He needed a piano player and a drummer to perform skits with him in Birmingham. Although he wasn't acquainted with them, he made them feel very important to the act. He also stayed after his concert and signed autographs for fans until 1:30 am. That's the type person he is."

If you have access to the Internet, you may want to check out Allan's Web page: "Who's Been Messin' up The Bulletin Board," chapter of TAGSRWC. Allan provides Omens of the Day, bits of humor, photos, and up to date information on Mayberry happenings. You can contact Allan at his e-mail address: anewsome@aol.com

By the way, congratulations are in order for Allan and Jan. They are expecting a baby in December. And no, it will not be named "Opie" if it is a boy.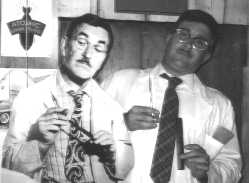 Allan now makes public appearances at several events each year which include: Mayberry Days in Mt. Airy, NC, The Popcorn Festival in Illinois, The Squad Car Rendezvous in Bradford, Ohio, Mayberry Nights in Huntsville, Mule Days in Gordo, Alabama, and other various activities. He is a very nice and somewhat shy person who is amazed and appreciative of the reception he has been given by the fans of Mayberry. Don't miss him, whether in person or on the Internet. Either way, you will come out a winner.