James Adam Newsome
Updated: 10 Mar 98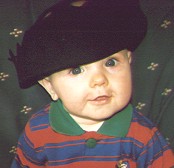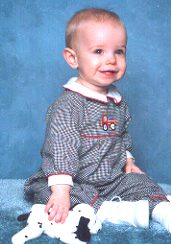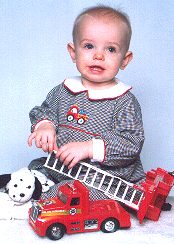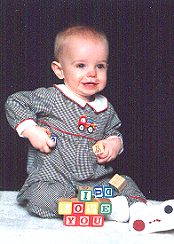 Here's the "one year" photos that we had done at 14 months. Scratch on his face, sick, etc.. kept us from making the "actual" 1 year pictures.

The "Goober" hat at the top is actually a hat given to Jim Clark by George "Goober" Lindsey himself that Jim was kind enough to let Adam wear for a picture.

Thanks again for all the support you've given to the Newsome's and for making our little corner of Mayberry a fun place to be. I continue to thank the Lord Jesus Christ for the wonderful Christmas gift He blessed us with.
Just for fun, here's a picture of what he looked like back in May 1996 at 8 weeks old. Didn't know what we were getting into but the Lord has sure blessed us!!

---
Allan Newsome (Anewsome@aol.com)

"Mother Figure" Chapter - Huntsville, AL &

"Who's Been Messin' Up the Bulletin Board?" Chapter - Internet

TAGSRWC