The Old Remshaw Place
Drop by The Old Remshaw Place for a pumpkin of a time. Free Barn-o-lantern, Floyd-o-lantern, Goob-o-lantern and Op-o-lantern patterns. Plus you can see old man Remshaw himself checking out the visitors. Be careful for the floating axe and them eyes that seem to follow you everywhere (must be the light'n).

2016 Andy Griffith Show Wall Calendar
The 2016 Calendar is here and ready to ship NOW!
All the photos contained in this years calendar are in black-and-white but some of them are from color seasons or publicity photos. The calendar is 12" wide x 12" tall when closed and 12" wide x 24" tall when open.Calendar Back
Characters featured in this 2016 edition are Andy, Barney, Opie, Aunt Bee, Goober, and Gomer (who was missing from last years calendar).

Property of Mayberry Athletic Department T-shirt
This tee will allow you to show your Mayberry Union High spirit and pride in being one of the amazing athletes who have passed through the halls. You can let others know that you where featured in Barney "Scoop" Fife's "Pickups and Splashed from Floor and Pool" sports column in the school paper. The front of the tee declares, "Property of Mayberry Union High Athletic Department" in big bold letters.

Barney's No Jerk T-Shirt
A great graphic of Barney in his most confident pose will remind everybody, "
You're not talking to a jerk, you know!
" when you wear this good-looking and fun T-shirt...that's of full of Fife attitude!

Mayberry Boys Club T-Shirt
You may think you've seen this shirt before but while it's very similar, this tee is without the 50th Anniversary logo of the previous t-shirt. This t-shirt has a classic image of four of Mayberry's favorites on a heavyweight 100% preshrunk cotton shirt. The color? Why, that's Courthouse Coffee, of course! Celebrate Mayberry in style!
It's sure to make everybody smile. Just grin and grin and grin!
Words of Wisdom T-Shirt
It captures a special moment between Andy and Opie. Kind and wise words from a father to his son.
The image is deliberately distressed and splattered to give it an old, family scrapbooky feel. (Maybe more like Newton Monroe spilled some paint on it.) Anyway, that's a cool look these days, so if you want to be hip, you gotta have a shirt with some roughness, even if the photo itself is charming. All on a charcoal colored shirt. It's the color of choice of the Ankrums and other families around Mayberry.

Mayberry Deputy Patch
Evenry body wants to be a Mayberry Deputy and here's your chance to wear your pride right on your shoulder. This Mayberry Deputy Patch would look good on you and is the same color and style as those worn by Barney. Build your own deputy uniform or use the patch to decorate your favorite shirt. .

The Andy Griffith Show Book - 50th Anniversary EDITION
The Andy Griffith Show Book
by Ken Beck and Jim Clark
This 220-page soft-cover book of Mayberry trivia and photos was first published in 1985 to celebrate the 25th Anniversary of "The Andy Griffith Show." It has been updated regularly since then with new trivia and additional photos (including some in color).
The book treats Mayberry as a real place (and why not!) with biographies of each of the major citizens,
alphabetical listings of residents and businesses, town history, and much more
. Lots of
fun trivia quizzes
in all levels of difficulty. Includes a
map of Mayberry Count
y.
Useful as a reference
,
but it's primarily just a fun book
about Mayberry and its people and visitors.
Includes brief episode summaries of all 249 episodes
and a list of all TAGSRWC chapters founded through 1999.

The
latest edition
of the TAGSRWC official eNewsletter is now online.
Check the eBullet Archives for all issues of the eBullet
and
subscribe
to get on the
free
e-mail list.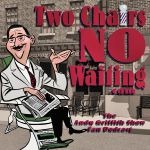 The Andy Griffith Show Fan Podcast

"
Two Chairs No Waiting
" Andy Griffith Show Fan Podcast
is full of fun information about The Andy Griffith Show and all things Mayberry. There are interviews, listener feedback and a lot of Mayberry fun. The episodes feature interviews with cast members, tribute artists and fans. Drop by and
listen online or download
the episodes.
New episodes every Tuesday night.
Oh yeah, "Goober says, 'Hey!'"
Be sure to check out the
Burke on Mayberry
podcast as well.
Sign Up for iMayberry Community - Join the community
The
iMayberry Community
's goal is to help fans of
The Andy Griffith Show
connect on a more personal level so they can share their knowledge and love of Mayberry.
Community, friends, relationships, family.....those are the things that we love about Mayberry and those are the things the
iMayberry Community
wants to nurture.
Please join this online version of Mayberry, have fun, visit, share the spirit of Mayberry and let's see our Mayberry family grow. Mayberry fans are a special group and the
iMayberry Community
is something special as well. See you in iMayberry.
Mayberry Historical Society
The
Mayberry Historical Society
invites the Mayberry community on the Internet to to create a history of the town and county of Mayberry. Historians have already created a episode guide (all 249 episodes) but we need your help to add details to all those episodes.
Assistance is needed in adding more information to the Episode Guide. Specifically adding facts to the "Odd Facts Know by Few" section of each episode and adding detail to the "Plot Summary" of episodes. Help writing biographies for the characters appearing on The Andy Griffith Show. Let's work together to make a great Mayberry resource at
Mayberry.info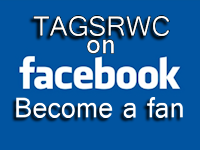 Become a Fan of TAGSRWC on Facebook
TAGSRWC
has created a
Facebook Fan page
as another method of delivering our share of Mayberry fun to the world. Thanks to those that have already found us and here's an invitation to everyone to
become a fan of TAGSRWC on Facebook
. You don't even have to be a member of Facebook to check out the page. Our plan is to put a vintage TAGSRWC or Mayberry event photo with cast members on the Facebook page every week or so as well as information about whatever news might be happening. You can talk back to us and among yourselves as well.
Head on over and become a Fan!
Mayberry Memorials
TAGSRWC recently began setting up
Memorial areas
here on iMayberry.com to allow fans and family alike to add thoughts about some of the wonderful actors and crew who made Mayberry a place we all enjoy. Feel free to add your thoughts or memories about our Mayberry friends.
Sarah'sMayberry Directory
The most up-to-date listing of Mayberry and Mayberry related sites on the web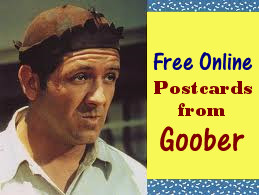 Sending online greetings to your friends right from Mayberry. Visit Postcards from Goober and bring some Mayberry into your friends day. Enjoy!
Believe it or not, Mayberry was on Star Trek. Check out this wonderful site by TAGSRWC member "Dapper Dan" which he donated to the iMayberry.com site. These pages give you a tour of Mayberry you've never seen.
Check out some neat comic strips by Sam White!
---