Sarah'sMayberry Directory
The most up-to-date listing of Mayberry and Mayberry related sites on the web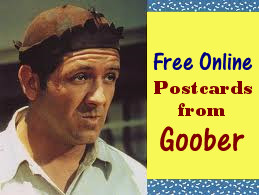 Sending online greetings to your friends right from Mayberry. Visit Postcards from Goober and bring some Mayberry into your friends day. Enjoy!
Believe it or not, Mayberry was on Star Trek. Check out this wonderful site by TAGSRWC member "Dapper Dan" which he donated to the iMayberry.com site. These pages give you a tour of Mayberry you've never seen.
Check out some neat comic strips by Sam White!
---