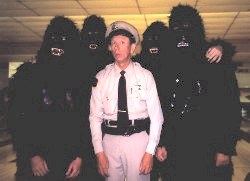 David monkeying around at Mayberry Days.

Reviews

"The Mayberry Deputy/David Browning is A BRIDGE between the Andy Griffith Show and today."
Don Knotts, Actor & "Barney Fife" from The Andy Griffith Show


"David Browning improvises the character in each situation. WE LOVE HAVING HIM at the Mayberry Star Shows."
Betty Lynn, Actor & "Thelma Lou" from The Andy Griffith Show


"

YOU HAVE TO SEE IT TO BELIEVE IT

,…"Barney Fife" and "Rosco P. Coltrane" on the same stage…"


James Best, Actor & "Rosco"

"VERY, VERY FUNNY, VERY ORIGINAL and, to tell you how great he is, I'm envious & jealous of David Browning."
Ronnie Schell, Actor & Comedian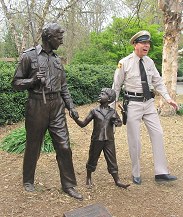 Raleigh, NC - The Mayberry Deputy with TV Land Landmark statue honoring The Andy Griffith Show
"YOU WERE FANTASTIC!!!...Thrilled to have you at our Manager's Meeting."
Joe Scarlet, Chairman & Chief Executive of Tractor Supply Co.

"A PERENNIAL FAVORITE-an extraordinary entertainer who excites the delegates and evokes pleasant memories of the delegate's own "Mayberry". He has become a welcome member of the Safety and Health Congress family.
Board of Directors, Tennessee Safety and Health Congress, Nashville, TN

"WHAT A HIT you made with everybody!"
Tom Berlinger, Director of Operational Services, Florida Sheriffs Association

"It was absolutely delightful to work with you…The Andy Griffith Show episodes you hosted were hilarious. The RATINGS WERE FANTASTIC too..."
Anita Normanly, WRAL-TV5, Raleigh, NC

"You had a great impact on our entire group. I can't remember when I've received so much feedback, all very positive, regarding your keynote presentation... especially APPRECIATE CONSIDERATION AND ENTHUSIASM both you and Patty showed as we made the arrangements and while you were here…"
Jerry Eggleston, Virginia Department of Correction

"You're the BEST ROVING ENTERTAINER I've seen!"
Phil Hurst, Secretary/Manager of Clay County Fair, Iowa with 300,000 in attendance.

"I'd never seen The Andy Griffith Show but I still had tears of laughter rolling down my cheeks… This was a great way to have fun and fellowship and build a FEELING OF TOGETHERNESS - THROUGH SHARED EXPERIENCE."
Chaplin Officer from Scotland at Officer Alive! Conference, Oregon

"INCREDIBLY HARD WORKER, wants to speak to every fan."
David Haas, General Manager, Hickory Crawdads Professional Baseball, NC

"Great job and I would be PROUD TO RECOMMEND you to any group."
Jonathan Edwards, Credit Manager Controller, Midland Building Materials, Louisiana

"ABSOLUTELY THE BEST THING I have encountered in 35 years of law enforcement"
Joe Lester, Director of Oklahoma University Police Department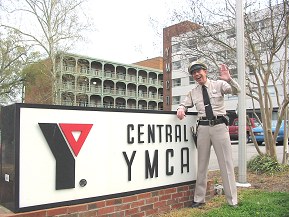 Raleigh, NC - The Mayberry Deputy visits Barney's favorite place to stay when in Raleigh, the corner room at the "Y."

"Attendees are calling it "OUR BEST YET" and your appearance contributed greatly to this success…our meeting planner Creed Crowder, said that working with you is extremely easy and pleasant."
Jack Simmons, President & CEO of TN Valley Public Power Association, Inc.


"Phenomenal entertainer who was TREMENDOUS ASSET as part of promotional and welcoming team for International Association of Chiefs of Police in Charlotte, NC."
Glen Mowry, Deputy Chief of Charlotte/Mecklenburg Police


"I've been handling entertainment and inspirational speakers for 12 years…you're my personal favorite and the talk of the plant the next day… time you spent before your performance was almost as valuable as the performance itself. You LIFTED THE SPIRITS of many and that's just what we needed."
Billy Chism, HR Manager, Coats America, GA


"Ignites wholesome laughter and heartfelt feelings of GENUINE MAYBERRY spirit whenever he entertains."
Jim Clark, president of The Andy Griffith Show Rerun Watchers Club (TAGSRWC)


"Mayberry events just wouldn't be the same without 'Barney" there to KEEP THINGS MOVING and entertain the crowds with his 'Nip-its' and his bullet."
Allan Newsome, TAGSRWC Webmaster

"…Given the pace of life these days, it is good to know there are entertainers such as yourself who can make us stop for just a moment to remember the simpler times. I also

APPRECIATE YOUR WORK AS A GOOD WILL AMBASSADOR FOR LAW ENFORCEMENT

…"


Sheriff Craig Webre, National Sheriffs' Association President




"You were the

HIGH POINT OF THE CONAGG CONVENTION

(in Las Vegas), Thanks",


R. Moorhouse from California



"…Had lunch with a co-worker…your name came up as one of the best speakers we've had and this guy's been with us for nearly 30 years. So…

THAT'S SOME COMPLIMENT!

..."


Laura Staley, Farm Credit of the Virginias



"…Your performance was

TRULY MORE THAN I EXPECTED

. You accomplished exactly what I had hoped for…laughter, humility, memory and honor."


BJ Whitley, Greenville-Pitt County, NC Chamber of Commerce



"Everyone at the SCSPLS convention immensely enjoyed the day with The Mayberry Deputy…We appreciate the time he spent with the group on the trade show floor as well as participating in the surveying games in the afternoon! We

HOPE TO HAVE HIM BACK

for another performance in the future."


Brenda Smith, SC Society of Professional Land Surveyors



"Our

LUNCHEON WAS GREAT – THANKS TO THE MAYBERRY DEPUTY

. He offered wholesome comedy with and upbeat and inspirational message."


Lisa Radmore, TN State Bank



"…We

APPRECIATE YOUR ENERGY, TALENT AND TIME

in making this conference our best yet…"


P.Robbie Robertson, Administration Manager, Virginia Department of Criminal Justice Services




"...big show in Ethiopia and

DEPUTY REMINDED ME OF SEEING SHOW IN ETHIOPIA

."
Ethiopian Beyene Brhana of The Andy Griffith Show and Mayberry Deputy's appearance at Lipscomb University, Nashville, TN