---
35th Anniversary Celebration:
A Mayberry Reunion
On September 30 and October 1, 1995 a very special celebration was held at the Stevens Center in Winston-Salem, North Carolina. Twenty cast members from "our hometown" gathered together to pay tribute to "The Andy Griffith Show" and share their experiences in Mayberry.

---
Neal Brower, member of the Barney Chapter and known as Professor Brower to readers of "The Bullet", took the stage to open the event. Neal was instrumental in the planning and was a driving force behind the event and we, the members of TAGSRWC, are grateful for his effort. Thanks Neal.
Following Neal's introduction, the Darling Boys (Doug Dillard, Rodney Dillard, Mitch Jayne, and Dean Webb) took the stage and honored TAGS faithful with more than a couple of our favorite Darling tunes. They had the Stevens Center audience tapping toes and clapping hands in no time flat.
Richard O. Linke, TAGS Associate Producer and long time personal manager to Andy Griffith, graced us all with his recollections of time spent working on "The Andy Griffith Show" and with Andy in general. He walked on stage wearing a brown corduroy baseball cap with the word Mayberry embroidered on it in yellow. That cap was one of the original cast caps given to all the folks that worked on TAGS. He said that he had not worn the hat for years but wanted to wear it to Winston-Salem so people would know who he was.
James Best, guitar player Jim Lindsey, walked onto the stage with a guitar slung over his shoulder proclaiming that he was always asked if he really played the guitar on the show. He was going to prove he could play and was just about to start strumming when he ran out of time for his part of the program and had to give up the stage. He did have time to mention that he enjoyed his time on the TAGS episodes he was on and told us about some of the other projects that he has worked on like the "Twilight Zone", "The Dukes of Hazzard" and several westerns he appeared in.
Amzie Strickland, Miss Rosemary , treated the audience by reading entries from her day planner that she had written back when she landed her first role on TAGS. The entries were things like, "Got part on Andy Griffith Show...buy new hose." It was an interesting insight to the things she was thinking about and I for one enjoyed every minute.
Joanna Moore, Nurse Peggy, came on stage and spoke about her time on "The Andy Griffith Show" and sang "Down in the Valley" making us all feel like we were sitting on Andy's front porch.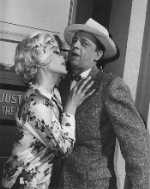 Jean Carson came out for two appearances on stage. The first time dressed as Daphene the fun girl and the second as Naomi the escaped convict. Her "Hello Doll" thrilled the hearts of all the fans. "If you want something done right, you gotta do it yourself" was also a big hit.
Bernard Fox, Malcom Merriweather, was wonderful with his performance of British pub songs. He had the crowd laughing and singing along. His first words following the "spontaneous ovation" were, "Aren't ya' kind. Aren't ya' kind."
Keith Thibodeaux, Opie's pal Johnny Paul Jason, came out and said a few words about his time on TAGS and how it compared to his work on "I Love Lucy" where he played "Little Ricky". He said that he enjoyed TAGS much more, mainly because there were other kids on the set that he could play with. Then he showed us why he had earned the role of Little Ricky by performing on his drums.
George Lindsey, Goober (like you didn't know that already), kept the house in tears with his stand-up comedy routine. He was a big hit, as he always is. He ended his performance with the great poem, he wrote, called, "What Mayberry Means to Me." If you've never heard this poem, check out his autobiographical book, "Goober in a Nutshell", and you'll see why it cracks folks up.
Maggie Peterson, Charlene Darling, charmed the fans with song. She brought out her "brothers" and the Darlings sang, "Salty Dog" and other songs that make you cry. The only thing bad about the singing was when it ended.
Hoke Howell, Charlene's husband Dud Wash, shared memories of the time he spend on the set and explained to us why Bob Denver was used as Dud in the final appearance of Mr. Wash. He said the truth of the matter is Bob was about to start some new show called, "Gilligan's Island" and CBS wanted him to be on TV all he could be to promote the new show. Bob Denver was a great Gilligan, but there's really only one Dud.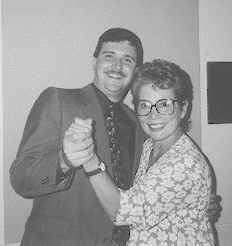 Jackie Joseph, Ramona Ancrum, told about the fun she had on the TAGS set. She also spoke of her ex-husband, Ken Berry, and the time he spent on "Mayberry, RFD". She was just as sweet as could be and was bubbling over with emotion from all the love the fans were showing her. I even got to dance with "my darling Romeena" for a picture at the reception following the show.
Howard Morris, Ernest T. Bass, made his entrance in typical Ernest T. style by running down the aisle of Steven Center throwing rocks, laughing, and hugging all the pretty girls he could find. And of course he sang "Ol' Esmariah" for us playing along with his gas can all tuned up.
Elinor Donahue, Ellie Walker, told us about how nervous she was when they were suppose to record the song for the Christmas episode. Andy asked her to sit down on the floor of the recording studio because he could see she was nervous. They both sat right down in the middle of the studio and Andy would play his guitar and hum along saying she should start singing whenever she felt ready. So, whenever you're watching the Christmas episode remember that Andy and Ellie were really sitting on the floor of a recording studio when they were s "Away in a Manger."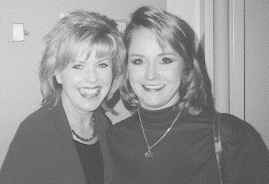 Arlene Golonka, Millie, spoke about TAGS but also about her time on "Mayberry, RFD" where she played Ken Berry's love interest. She also revealed that George Lindsey was the one who introduced her to her ex-husband and said with a twinkle in her eye that she'd never forgive him for that. At the reception, I told Arlene that the guys I work with call Jan, Millie so she made sure Jan got a picture of the "2 Millie's".
Betty Lynn, Thelma Lou, was very appreciative of the standing ovation she received when she took the stage. Betty is one of the most caring people I have ever met. She really does appreciate the fans and is thankful for the love they show her.
While Betty was on stage, they brought a telephone on stage and called Aneta Corsaut, Helen. Aneta had planned to attend the event, but was unable, due to her health. The audience gave her a standing ovation that lasted for several minutes. Betty was in tears and by the sound of her voice you could tell that Aneta was touched by the sentiment. She told us all that she wished she could have been there with us and was thankful to visit by phone. This was truly a moment that all those present in Stevens Center will remember for a lifetime.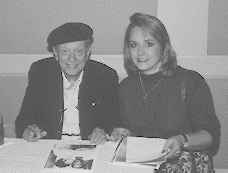 To close the evening, Don Knotts came out and performed several skits and a scene from "No Time for Sergeants". It was a fitting ending to a BIG evening.
To sum it all up, Jim Clark (our Presiding Goober) said, "This was better than Disney World for TAGS fans."
---
Allan Newsome (Anewsome@aol.com)
"Mother Figure" Chapter - Huntsville, AL &
"Who's Been Messin' Up the Bulletin Board?" Chapter - Internet
TAGSRWC