OFFICIAL NEWSLETTER OF The Andy Griffith Show RERUN WATCHERS CLUB
Subscribe to THE BULLET for all this and more Mayberry fun.
---

Volume 15, Issue 2


---

---

November 26, 1998


---
In the Kitchen with Elinor Donahue!

Elinor Donahue has written an exciting new cookbook/memoirs called In the Kitchen with Elinor Donahue.

As the couple of Goobers who served as taste-testers for the book can heartily confirm, the book has 185-plus absolutely delicious recipes-ranging from simple to sophisticated, but all mouth-watering.
In addition to the sensational recipes, Elinor has included favorite anecdotes from throughout her life and career in Hollywood-from childhood movie star and "Father Knows Best" to TAGS, "Star Trek" and "The Odd Couple" to "Dr. Quinn, Medicine Woman." Each anecdote is accompanied by a recipe that Elinor associates with that particular memory.
And the photographs! Elinor shares more than 260 photos, including family pictures as well as rare images from throughout her career.
Red-Hot Reading
In addition to Elinor Donahue's delicious new book, don't forget about Mayberry 101, the really fine book by Neal Brower that came out earlier this fall. It's flying off the shelves. Find it and other new gift ideas for yourself and your friends at Weaver's Department Store.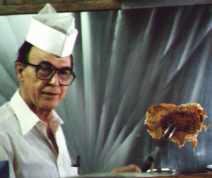 HOT OFF THE GRIDDLE-
Charles Dowell takes a rare break during Mayberry Days to display some grilled pork chops that are ready for his world-famous sandwiches. The Snappy Lunch in Mt. Airy celebrated its 75th Anniversary in 1998 and is featured in the November issue of
Gourmet
magazine.
Mayberry fans will especially enjoy seeing contributions from Betty Lynn, Bernard Fox, Maggie Peterson Mancuso and Howard Morris. But Elinor's career also reads like a history of Hollywood during the last 50 years, and she has the special memories, photos and recipes to capture it all.
In a word, this book is charming. You'll be dazzled by the recipes, amazed by the photographs and fascinated by the stories. Elinor has had a truly phenomenal show business career and an extra-ordinarily full life beyond the camera.
If you love good food combined with the words and pictures from an interesting and remarkable life before, during and after Mayberry, then you're sure to find that In the Kitchen with Elinor Donahue cooks up some mighty satisfying eating and reading.
In the Kitchen with Elinor Donahue is published by Cumberland House. It's a 288-page paperback with a suggested retail price of $16.95, but you'll find it in The Bullet and at Weaver's Department Store at a special Mayberry price of just $15.00!
Visit

and check out the Mayberry T-Shirts, Caps, Videos, Music and Books! Also, check to see if there is a chapter of TAGSRWC in your area and see how to start a chapter for yourself.
---
To report problems with this page contact Webmaster
DO NOT use the graphics on this web site without permission.
Visit: "Who's Been Messin' Up the Bulletin Board?" Chapter - Internet TAGSRWC