Three events starring two or more TAGS cast members are on tap for this summer: Don Knotts and Jim Nabors perform in Columbus, Ohio, on June 19; Mayberry In Meadoview with 10 TAGS stars is June 27 in Kingsport, Tenn., and the Sixth Annual Squad Car Rendezvous hosts Bernard Fox and others (to be announced) in Bradford, Ohio, on July 10 and 11. Here are details about all three events in the order that they occur.

Don Knotts and Jim Nabors will make a rare appearance together on the same bill for a 2pm show on Friday, June 19, at Veterans Memorial Auditorium in Columbus, Ohio. The event, organized by Celebrate Columbus, takes place at the odd hour because it is geared mostly to pre-arranged groups coming in by the busload. TAGSRWC has reserved 40 seats and we're organizing a "virtual national busload."

If you would like to reserve tickets in the TAGSRWC block, send a check or money order for $35 per ticket, payable to TAGSRWC, 9 Music Square South, Suite 146, Nashville, TN 37203-3203 no later than April 30. Your tickets will be mailed to you in early June.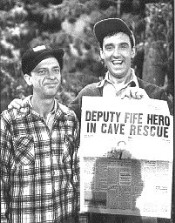 SHAZAM! -- Don't look surprised! Don Knotts and Jim Nabors will be on the same stage in Columbus, Ohio, on June 19.
We won't know exactly where our group of seats will be until we get them because of the possible cancellations by other groups, but tickets are assigned on a first-come basis, and since our group can be easily split into smaller groups, we should be in a better position than other groups to jockey for desirable seats if other groups cancel so of their seats.
We don't know yet what arrangements (If any) will be made for meeting with the performers and getting autographs. Information about that possibility will be provided to TAGSRWC ticket holders when they receive their ticket packet In the mail. (By the way, if the event does not sell out in advance to groups, Ticketmaster outlets are expected to sell remaining tickets closer to the show date) Remember; if you want to get your tickets in advance with the TAGSRWC group, we need to receive your payment by April 30.

Mayberry in Meadowview
The second big event with TAGS stars this summer is Mayberry in Meadowview, which takes place at the Meadoview Conference Resort and Convention Center, in Kingsport, Tenn., on Saturday, June 27, at 6:30 p.m. (the exact starting time may change slightly).
The 10 TAGS cast members scheduled to perform at the event are The Origin Dillards (Doug Dillard, Rodney Dillard, Mitch Jayne and Dean Webb), Maggie Peterson-Mancuso. (Charlene Darling), Bernard Fox (Malcolm Merriweather), Elmer Donahue (Ellie Walker), Jean Carson.. (Fun Girl Daphne), James Best (1im Lindsey) and, you ain't heard the last, Howard Morris (Ernest T: Bass). Other TAGS cast members may be added, as well. Also on hand will be talented Mayberry torch-bearers David 'Mayberry Deputy" Browning and Allan "Floyd" Newsome.
Tickets for the event, which benefits the Children's Miracle Network, go on sale through the Meadowview Convention Center (a Marriott property) on March 26. There are two ticket prices. The $50.00 VIP tickets are in the first 10 rows and include admission to the reception/autograph session following the show (The reception is limited to 350 people.) Remaining tickets for the show only (not the reception) are general admission and cost $30.00.
The Meadowview also has a special Mayberry room rate of $59.00 (or $69.00 to include two people for their "awesome" breakfast buffet). Call (423) 578-6600 for further information. The Meadowview Convention Center is located at 1901 Meadowview Parkway in Kingsport, Tenn. (It's at Exit 52 on I-181.) Also, check out the Meadowview Convention Center's web site at www.mvcrcc.com. Other sponsors for the event include Sam's Club and Wal-Mart.
Mayberry in Meadowview promises to be a terrific evening in East Tennessee with 10 of Mayberry's very best!

Rendezvous in Mayberry
Rounding out the summer events in its usual fantastic fashion will he the Sixth Annual Mayberry Squad Car Rendezvous at Bob Scheib's re-creation of Wally's Service Station in Bradford, Ohio, on July 10 and 11.
Bernard Fox the first star confirmed as an honored guest for this year's Rendezvous, an event which has become a Rite of Summer for Mayberry fans throughout the nation and from Canada. Another special Mayberry star (and maybe two) is expected to be confirmed soon.



UNSINKABLE: The Mayberry Cruise may have been canceled but ever-buoyant Bernard Fox is popping up at two big Mayberry events this summer: Mayberry in Meadoviewin June and then at Julys Mayberry Squad Car Rendezvous. Bernard is seen here as Col. Archibald Gracie in Titanic.
Bernard Fox guest-starred in three TAGS episodes as Malcolm Merriweather: "Andy's English Valet" (Episode #89), "The Return of Malcolm Merriweather" (Episode #124) and "Malcolm at the Crossroads" (Episode #164). His work also is enjoyed regularly in today's reruns as Dr. Bombay in many episodes of "Bewitched" and as Col. Crittenden in several episodes of "Hogan's Heroes." And moviegoers worldwide are enjoying his recent work in the blockbuster Titanic (as Col. Archibald Gracie).

"We're really ecstatic to be able to host Bernard for this years Squad Car Rendezvous," says Bob Scheib. "He created one of the most popular Mayberry visitors and is well known for his great work beyond Mayberry. We're excited about the possibilities of who might join him, as well."
The Rendezvous gets started with a banquet honoring the stars on Friday, July 10, at 7:00 p.m., in the banquet room at the Greenville Inn, in Greenville, Ohio. Tickets to the banquet are $25.00 per person and seating is limited to 100 people. Tickets may be ordered from Bob Scheib at the address at the end of this article.
The next day, Saturday. July 11, the actual Mayberry Squad Car Rendezvous gets under way at 8am. at Wally's Service, located on Bob Scheib's farm, 10870 Circle Hill Road in Bradford (in about the middle of a triangle formed by the towns of Greenville, Piqua, and Troy; that's just west of Exit 73 on I-75 at Troy).

Admission to the Rendezvous is $5.00 per person (children under 12 get in free with an adult), and the festivities usually run until about 4p.m. (Tickets will be available at the gate, but if you're ordering tickets to the Friday banquet, you may want to go ahead and order your Rendezvous tickets from Bob Scheib at the same lime you order your other tickets.)
The guest stars will take the Wally's stage one at a time during the morning. Each will make a few remarks and then meet fans and sign autographs. Throughout the day, Mayberry squad cars will be on display and rides will be given in some of the replicas. (Squad cars are expected to rendezvous at Wally's from all across the country. If you're planning to bring your Mayberry squad car, please register in advance with Bob Scheib, so that be can make sure to reserve a proper display space for your vehicle.)
Other festivities during the day include a TAGS theme song whistling contest, a Mayberry trivia contest, a best chapter T-shirt contest (bring your T-shirt with you, or mail it to Bob Scheib or to TAGSRWC if a member of your chapter is unable to bring a shirt to the event), hay rides, horseshoe pitching, memorabilia displays, and lots of delicious, hot dogs, pies and other Mayberry-style treats (or bring your own goodies for picnicking) under the shade trees and tents on the Wally's grounds.
Sponsors for the weekend are the Greenville Inn, Laubers Market, The Mayberry Times, and TAGSRWC - both as a national group and through several individual chapters. Event proceeds will help the local chapter of the American Cancer Society.
To order tickets to Friday's $25.00 banquet (advance tickets are required) and Saturday's $5.00 Rendezvous (advance tickets are a good idea if you're already ordering tickets to the banquet anyway), write to Bob Scheib, 10870 Circle Hill Road, Bradford, OH 45308. Your check or money order should be made payable to Mayberry Squad Car Rendezvous.
If you have a pressing question, need to register your squad car in advance or wish to volunteer to help with the Rendezvous, you can reach Bob at (937) 473-5606. (Note: He's not set up to handle credit card orders, so please don't call him to place an advance ticket order; instead, just mail your order to Bob.) The next Bullet will be published the week of the Rendezvous. To get information sooner about the final lineup for this year's event, check the TAGSRWC web site (with access via www.iMayberry.com) or send a SASE either to Bob Scheib at the above address or to TAGSRWC and we'll mail you updated information.
The Greenville Inn has a toll free reservations line at 1-800-631-5058. Ask for the special Mayberry Squad Car Rendezvous group rate. The Inn is located at 851 Martin Street in Greenville, an easy 14 mile drive through the beautiful Ohio countryside to Wally's Service. (Maps to Wally's will be available at the Inn's front desk, and directional signs will be posted along the route.) The regular phone number for the Inn is (937) 548-3613.
Make your plans now to come join the summer-time fun and excitement of one of Mayberry's finest annual events, the Mayberry Squad Car Rendezvous!
PS Be sure to read Floyd's Barbershop Bulletin Board in this issue for news about other Mayberry events and cast appearances planned for this year.