---

---
| | | |
| --- | --- | --- |
| Vol. 2 Issue 1 | "I want to do my sen-tence." - Ernest T. Bass | June 1996 |
---
Table of contents:

---
| | | |
| --- | --- | --- |
| Vol. 1 Issue 4 | "I want to do my sen-tence." - Ernest T. Bass | March 1996 |
---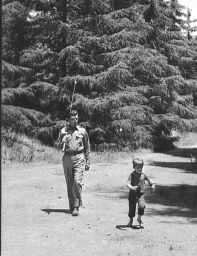 Table of contents:
---
Stories from Past Issues
35th Anniversary Celebration: A Mayberry Reunion

6th Annual Mayberry Days held in Mt. Airy, N.C. (Hometown of Andy Griffith) back on Sept. 28th - Sept. 30th, 1995. If you didn't make it there in '95, I encourage you to try to make it in '96. "It's BIG!"

The 3rd Annual Squad Car Rendezvous report on the event which was held in Bradford, Ohio (home of Wally's Service Chapter of TAGSRWC).

Also, check out the Squad Car Replicas page showing not only squad cars but Emmett's Fix-It Shop's truck that TAGS fans have reproduced. (Updated on 1 Feb 96.)
Animated Mayberry Squad Car
If you're using Netscape 2.0, be sure to check out our NEW "Animated GIF" page with the squad car seen here animated. The siren flashing and "Welcome to Mayberry being flashed across the car....IT'S A SITE!!

Remember, you'll only be able to see it with Netscape 2.0.
---
Allan Newsome (Anewsome@aol.com)

"Mother Figure" Chapter - Huntsville, AL &

"Who's Been Messin' Up the Bulletin Board?" Chapter - Internet

TAGSRWC