OFFICIAL NEWSLETTER OF The Andy Griffith Show RERUN WATCHERS CLUB
Subscribe to THE BULLET for all this and more Mayberry fun.
---

Volume 16, Issue 3


---

---

March 31, 2000


---
George Lindsey TV and Film Festival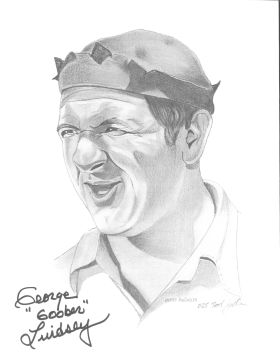 "WANTED" -- This rendering of George Lindsey is by police sketch artist Rod Sadler of Mayberry, Michigan Chapter (Charlotte, MI) Get a copy for yourself at Weaver's.
The Third Annual George Lindsey/UNA Television and Film Festival offers an exciting schedule of educational and fun events for any fan of films and filmmaking.
The special guest star for this year's festival is actor Stephen Root, star of TV's "News Radio," "Ladies Man" and "King of the Hill," and films such as Office Space.
Making special appearances at this year's festival are the Voice of Country Music, (and TAGSRWC Honorary Member) Ralph Emery and actor Lucas Black (Swing Blade and Crazy in Alabama).
The festival offers a wonderful chance to learn about all aspects of filmmaking, view films by filmmakers of all levels and types and even to visit with some of the industry's most talented and popular stars.



Here's the basic schedule for the festival:
Thurs., April 27:

Screening of festival entries and film debuts, beginning at 8 a.m.
Fri., April 28:

Seminar: "Breaking into an ActingCareer," 9-10 a.m.
Seminar: "Bringing Hollywood to Alabama," 10:15-11:15 a.m.
Luncheon: 11:15 a.m.-1:30 p.m. ($20 per person; reservations required by April 19)
Seminar: "Music Makes the Film" with composer (and TAGSRWC member) Lloyd Wells, 1:30-2:30 p.m.
Seminar: "Scripting a Film or TV Show"with writer (and TAGSRWC member) George Yanok, 2:45-3:15 p.m.
Roundtable Discussion: 3:15-3:45 p.m.
"An Evening with Ralph Emery," 7:30 p.m.
Sat., April 29:

Seminar: "The Law: What You Need to Know Before You Shoot," 9-10 a.m.
Forum: "A Time with the Stars," featuring Stephen Root and George Lindsey, 10:15-11:15 a.m.
Forum: "A Conversation with Lucas Black," 11:15 a.m.-12:15 p.m.
Autograph Session with the Stars: 12:15-1:15 p.m.
Seminar: "Adding Music to Your Film," with Lloyd Wells, 2:30-3:30 p.m.
Roundtable Discussion: 3:30-4 p.m.
Awards Ceremony: 7:30 p.m.

Admission to the film screenings, seminars, forums, roundtable discussions and autograph session are all free and the general public is encouraged to attend. Friday's luncheon is also open to the public. The charge is $20 per person; reservations are required by April 19.
For more information about the festival or to reserve luncheon tickets, call Lisa Darnell at (256) 765-4596 or call Bobbie Hurt at (256) 765-4592.
And oh yes, while on the campus for the festival, be sure to make time to see the exhibits of George Lindsey's show business memorabilia, including scripts for most of his TV and film work (especially TAGS and "R.F.D During free time at the festival, you can almost always expect to find several modern-day Goobers squirreled away in the George Lindsey Collection at the library and marveling as they pour over the TAGS scripts. (Ernest Borgnine's film and TV scripts are also archived at the library.)
Make your plans now to visit the beautiful Shoals area of Northern Alabama for this fascinating festival at the end of April!

Subscribe to THE BULLET for all this and more Mayberry fun.
Visit

and check out the Mayberry T-Shirts, Caps, Videos, Music and Books! Also, check to see if there is a chapter of TAGSRWC in your area and see how to start a chapter for yourself.
---
To report problems with this page contact Webmaster
DO NOT use the graphics on this web site without permission.
Visit: "Who's Been Messin' Up the Bulletin Board?" Chapter - Internet TAGSRWC