OFFICIAL NEWSLETTER OF The Andy Griffith Show RERUN WATCHERS CLUB
Subscribe to THE BULLET for all this and more Mayberry fun.
---

Volume 16, Issue 3


---

---

March 31, 2000


---
Mayberry Fan Fest and Mules Days
HONORING EARL -- Andy and Cindi Griffith join a standing Grand Ole Opry audience in applauding Earl Scruggs for his induction to the North Carolina Hall of Fame. Andy came to Nashville to present the award to his fellow Tar Heel, whom he hadn't seen since the 1960's , when the two met while Andy was working on TAGS and Earl was an occasional guest star of "The Beverly Hillbillies." If you missed Andy's performance at the Grand Ole Opry on November 13, 1999, here's your chance to see it in Real Slide Show format. (Barber Story) (Flop-Eared Mule)
After the George Lindsey film festival in April, Alabama completes its hat-trick of events with Mayberry connections with Mayberry Fan Fest in Cullman on May 13 and Mule Days in Gordo on June 2 and 3.
Mayberry Fan Fest takes place from 5 p.m. to 8 p.m. at the Cullman Civic Center, located at 510 5th Street W. in Cullman, Ala. (Take Exit 308 off I-65 and follow Hwy. 278 to the east and then turn right on 5th.) It's an evening filled with Mayberry trivia, games, door prizes, an Opie look-alike contest, a whistling contest, bluegrass music, great food, shopping and socializing.
Allan "Floyd" Newsome serves as the emcee of the event, which is coordinated by TAGSRWC's Esquire Club chapter, based in Cullman. The $5 admission to the event includes a hot dog, bottle of pop and a Moon Pie. For more information about Mayberry Fan Fest, contact the Civic Center at (256) 734-9157.
Mule Days is an annual festival in downtown Gordo, Ala. As the festival's name suggests, mules were the original inspiration for the event. And they're still a big part of it. But now there are also all sorts of entertainers and vendors.
And for the last several years, Mayberry has been one of the underlying themes of the event. This year Allan Newsome will be making sure everybody looks well trimmed on the streets of Gordo. Fellow character look-alike (that is, "tribute artist") Jamie "Opie" Sullivan will also be on hand.
The event may also have a Mayberry cast member on hand. There's music and other entertainment on Friday from 6 p.m. until everybody's ready to call it a night. Then there's a full day of entertainment (including a parade) from 8 a.m. to 5 p.m. on Saturday. It's all free. You just show up. Even if you're as stubborn as a mule.


Mayberry at MeadowView 3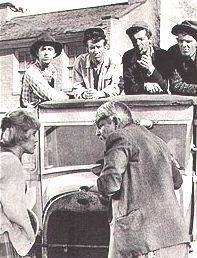 "ALL KEYED UP" -- The Dillards and Maggie Peterson Mancuso will be putting some miles on that old truck this summer with Mayberry shows at MeadowView and Pigeon Forge. Maggie and TV brother Doug Dillard will be back on the truck for a visit to Mayberry Days, too.
The third Mayberry at MeadowView is all set for Sat., June 24. The event this year is expanding to fill most of the day
Beginning at 9 a.m., Mayberry stars Maggie Peterson Mancuso, The Dillards (Doug Dillard, Rodney Dillard, Mitch Jayne and Dean Webb), Jean Carson and Ronnie Schell will sign autographs. (Admission to the autograph session is free, but there may be a charge for some autographs.)
Throughout the day, there will be a Silent Auction of items (mostly Mayberry related) that will benefit Children's Miracle Network.
From 11 a.m. to 1 p.m., hungry Goobers are encouraged to make way for Aunt Bee's Picnic, a buffet-style banquet featuring, hamburgers, hot dogs, ribs, all of the fixin's you can imagine and desserts. This mid-day feast, which will also include entertainment of some sort, is $20 per person and limited to the first 200 people.
Throughout the day, vendors will be set up to sell licensed Mayberry items and memorabilia.
The main event for the day is the evening concert, which begins at 6:30 p.m. with a performance of music, comedy and magic by the VW Boys.
Ronnie Schell will serve as master of ceremonies and will also perform. (His stand-up comedy show is considered among the best in all of show business.)
The Dillards, always a huge hit, will perform a full set of their bluegrass music and comedy and will be joined on stage by Maggie Peterson Mancuso, who will also sing some songs on her own.
Crowd-pleaser Jean Carson will perform some Mayberry-style comedy bits (likely with Allan Newsome and David Browning).
Admission to the concert is $25 per person in advance or $30 the day of the show. (Other stars may be added to the show.) MeadowView also has a special Mayberry room rate of $79.00 (or $89.00 to include two people for their huge breakfast buffet). Call (423) 578-6600 for either ticket or room reservations.
The MeadowView Conference Resort and Convention Center is located at 1901 MeadowView Parkway in Kingsport, Tenn. (It's at Exit 52 on I-181.) Also, check out the MeadowView Convention Center's web site at http://www.mvcrcc.com.
Besides the hosting MeadowView resort itself, sponsors of the event include WGOC Radio, Bryant Label Company and TAGSRWC.
All in all, it promises to be a full day of super Mayberry fun!

Subscribe to THE BULLET for all this and more Mayberry fun.
Visit

and check out the Mayberry T-Shirts, Caps, Videos, Music and Books! Also, check to see if there is a chapter of TAGSRWC in your area and see how to start a chapter for yourself.
---
To report problems with this page contact Webmaster
DO NOT use the graphics on this web site without permission.
Visit: "Who's Been Messin' Up the Bulletin Board?" Chapter - Internet TAGSRWC