OFFICIAL NEWSLETTER OF The Andy Griffith Show RERUN WATCHERS CLUB
Subscribe to THE BULLET for all this and more Mayberry fun.
---

Volume 16, Issue 3


---

---

March 31, 2000


---
Military Rendezvous 2000
FUN FROM MT. PILOT -- Jean Carson promises fans much more entertainment at Mayberry at MeadowView 3 than you'd ever have just staying home watching that George Raft movie on TV. (Rendering by Rod Sadler. Get one for yourself at Weaver's.)
For five years, you knew it as the Mayberry Squad Car Rendezvous. Then Bob Scheib and family took a year's break from hosting the event.
As Barney himself might do, Bob apparently used the time off to go to some Army surplus auctions or something, because now he has expanded the scope of his official vehicles to include the military.
The good news is that the Rendezvous is back and bigger than ever this year. In fact, it's now a two-day event, Sat. and Sun. July 1 and 2.
The somewhat unfortunate news for many fans will be that the event has outgrown the capacity of the original Wally's site on the Scheib farm.
The way we figure it, when Gomer left Wally's, he joined the military. This year's Rendezvous is just following his lead. And what better time for patriotic spirit than during the start of the long Fourth of July weekend.
And the wonderful consolation is that the event is moving to a beautiful 180-acre farm about six miles away from Wally's in Covington, Ohio. (Bob also might put up a fillin' station facade, etc., to re-create some of the atmosphere of Wally's.)
Mayberry squad cars will still be a major focus of the event, and now there will be even more space to display them, along with a variety of military vehicles.
And one super addition to this year's event is that there is a small lake right next to the area where the Mayberry section of the event will be headquartered. You might want to bring your fishing gear and your best bait because rumor has it that Old Sam has been spotted in this well-stocked lake. There will be prizes for anybody who happens to catch Old Sam (as well as some of the other, less legendary fish or maybe even a carp or an Ernest T. bass).
As in years past, there will be a theme-song whistling contest, a Mayberry trivia contest and all sorts of fun and games. And great food!
And another big part of the past Rendezvouseseses has been the celebrity guests. This year is no different.
As The Bullet was going to press, Bob was in the process of confirming the lineup of stars. By the time this issue first reaches homes, much more should be known. At least three of the stars being contacted appeared in Mayberry and all were on popular shows dealing with the military.
As soon as Bob receives the necessary blessings, we'll spread the word about who the stars that he's praying will attend are. In the meantime, we'll just have to kling ourselves to the hope that Bob will know soon. But for now, he can only mash his teeth and say, "I know noth-ing."
One actor who is already confirmed for the Rendezvous is Harrison Young, who played the older Private Ryan in Private Ryan. And if any of these military folks start looking shaggy in the back, you can be sure that our own Allan "Floyd" Newsome will be ready with his clippers. Not that it necessarily matters in Mayberry, but there will be a re-creation of the 4077th camp (complete with tents and vehicles) on the Rendezvous grounds. (We certainly wouldn't mean for the reference to the 4077th to be taken as any kind of a hint about who's being contacted.) One of the festival's options for food likely will be an actual chow line at the 4077th.
There will be Big Band music, parades and all kinds of activity (including helicopter landings, parachutists and World War II re-enactments) somewhere on the grounds throughout the two-day event, which will be open 8 a.m. to 5 p.m. each day. Admission to the event is still just $5 per day.
Since the complete schedule is not worked out yet, Bob Scheib recommends sending a SASE to TAGSRWC if you want an updated schedule of events (including star appearances and whether there will be an evening banquet as there has been in previous years). Or you can check our web site at tagsrwc.com for updates. As a last resort (but as a first choice if you plan to bring your Mayberry squad car replica), call Bob at (937) 473-5606.
The location for Military Rendezvous 2000 is 7835 North Rangeline Road in Covington, Ohio. From I-75, get off at Exit 74 and take Route 41 through Covington. Take Route 36 west to Rangeline and turn right, which will take you north. Just follow the signs. "You can't miss it."
A sponsoring hotel has not been lined up yet, but there are any number of chain hotels in nearby Troy. The towns of Greenville and Piqua also are not far away and also have good places to bivouac.
Military Rendezvous 2000 benefits the World War II Memorial. Event sponsors include AmVets, the American Legion, the VFW, American Legion, Time Warner and TAGSRWC.
This year's edition of the Rendezvous should be Pyles of fun for the whole family. So Ten-hut and fall in!

"A Mayberry Reunion"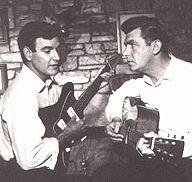 BEST OF SHOW -- If you don't come see James Best at the "Maberry Reunion" in Pigeon Forge, well, you may just have to put up your "Dukes."
Summertime in Mayberry heats up even more with a very special "Mayberry Reunion" show at the Country Tonite theater in Pigeon Forge, Tenn., on Monday, Aug. 7 at 7 p.m. The stars in the exceptional lineup are Betty Lynn, James Best, The Dillards and Maggie Peterson Mancuso. (Other stars may be added closer to the show date.) Tickets are $25.00, plus tax, and are available at the theater's box office or by calling (423) 453-2003 or 1-800-792-4308.
The stars will present a full concert show, take questions from the audience and then sign autographs for any fans who want them.
Also look for a replica of both a Mayberry squad car and, in honor of James Best, the General Lee from "The Dukes of Hazzard" to be on hand. (There are also tentative plans for an exhibition of James Best's acclaimed watercolors somewhere in Pigeon Forge in conjunction with the show.)
This event was confirmed just as The Bullet was going to press, but we wanted to give Bullet readers the heads-up about it because the July Bullet will be coming out extremely close to the date of the show-too late for effective notice.
For updates on the show and any changes in the lineup, check the calendar of events on our web site at www.tagsrwc.com or send a SASE to TAGSRWC HQ in Nashville.
Superstar Connection in Pigeon Forge is organizer and lead sponsor of the event (as it was for the Don Knotts show in Pigeon Forge last August). Other initial sponsors are WVLT-TV, Country Tonite and TAGSRWC.
While Mondays are not a traditional night for a TAGS event (other than of course being the night TAGS aired on CBS during its original prime-time run), Pigeon Forge is the perfect place for a Monday night show. There are lots of family-oriented shows and places like Dollywood that folks can visit on the weekend. And then just extend your stay a day and enjoy what is sure to be an unforgettable show full of new and old Mayberry memories.
Subscribe to THE BULLET for all this and more Mayberry fun.
Visit

and check out the Mayberry T-Shirts, Caps, Videos, Music and Books! Also, check to see if there is a chapter of TAGSRWC in your area and see how to start a chapter for yourself.
---
To report problems with this page contact Webmaster
DO NOT use the graphics on this web site without permission.
Visit: "Who's Been Messin' Up the Bulletin Board?" Chapter - Internet TAGSRWC