OFFICIAL NEWSLETTER OF The Andy Griffith Show RERUN WATCHERS CLUB
Subscribe to THE BULLET for all this and more Mayberry fun.
---

Volume 16, Issue 3


---

---

March 31, 2000


---
Mayberry Days in Mt. Airy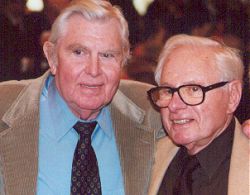 MAJOR DOMOS OF MAYBERRY -- Old friends Andy Griffith and TAGS producer/writer/director Aaron Ruben share a warm hug following the TV Land luncheon honoring Don Knotts in January. As Andy Taylor said at Barney and Thelma Lou Fife's wedding reception, "No matter where life takes you, you always carry in your heart the memories of old times...and old friends."
The Mayberry tradition that fans everywhere anticipate is the 11th Annual Mayberry Days in Andy Griffith's hometown of Mt. Airy, N.C.
We'll have the complete run-down for the event in our July issue, but we'll give you the key elements of the schedule now because it is already not too early to be making reservations for the parts of the festival that require tickets (though most of the activities are free and don't require a ticket).
The Doug Dillard Band (featuring Ginger Boatwright) will be performing for the 11th year. Fans will also be delighted to know that Maggie Peterson Mancuso will be returning.
Unfortunately, Jackie "Our Darling Romeena" Joseph, will be out of the country (and we don't mean just away from Ernest T. Bass's cave!) and unable to attend. But organizers at the Surry Arts Council are ever hopeful that George Spence and maybe some other cast members will be able to attend. (And we can always hope that Richard and Bettina Linke can somehow once again make the trip over from Hawaii for Bettina to defend her Golf Tournament title.)
And with an affiliation with TV Land seeming likely, who knows what other special things might transpire at Mayberry Days as a way of celebrating the 40th Anniversary year of TAGS.
On a sad note, we're sorry to report that champion Mayberry Days fiddler Melvin Slaydon (perennial winner at Colonel Tim's) passed away late last year. He will surely be missed.
Before we run out of space, though, here's the basic schedule for the parts of Mayberry Days requiring tickets.
Have fun making your plans for all of these exciting Mayberry events in store for the 40th Anniversary of TAGS

Mayberry Days 2000:
Advance Ticket Info
Thursday, September 28
(All at Cross Creek Country Club)
Mayberry Days Golf Tournament (incl. Buffet & VW Boys), 12:30 p.m. $80
Mayberry Days Golf Buffet and VW Boys Concert, 5 p.m. $25
VW Boys Concert, 7 p.m. $10

Friday, September 29
(Both at Andy Griffith Playhouse)
Doug Dillard Band Matinee, 3 p.m. $10
Doug Dillard Band Concert, 7 p.m. $15

Saturday, September 30
TAGSRWC Dinner and Meeting, 5 p.m. $15
TAGSRWC Meeting only (balcony seats) $ 5
Colonel Tim's Talent Time, 7 p.m. $20
Mayberry Days Bowling Tournament, following Colonel Tim's $20
For additional information or to order tickets by phone using Visa or MasterCard, call (336) 786-7998 or call 1-800-286-6193 or send check or money order payable to Surry Arts Council to P.O. Box 141, Mt. Airy, N.C. 27030.
It's also a good idea to make hotel reservations sooner rather than later. Some places to try are Mayberry Motor Inn (likely already booked up) at (336) 786-4109, Comfort Inn at 1-800-672-1667, Hampton Inn at 1-800-565-5249, Calloway Motel at (336) 786-4195 or the new Microtel Suites at (336) 789-7660.
We'll have the complete Mayberry Days run-down (including Mayor's Proclamation, Trivia Contest, Mrs. Wiley's Tea Party, Pie-Eating Contest, Horseshoe-Pitching Contest, Neal Brower's Lecture, Flower Show, Pig-Cooking Contest, Main Street parading, Floyd's Barber Shop clipping and Snappy Lunch pork chop sandwich eating) in the July Bullet.
Subscribe to THE BULLET for all this and more Mayberry fun.
Visit

and check out the Mayberry T-Shirts, Caps, Videos, Music and Books! Also, check to see if there is a chapter of TAGSRWC in your area and see how to start a chapter for yourself.
---
To report problems with this page contact Webmaster
DO NOT use the graphics on this web site without permission.
Visit: "Who's Been Messin' Up the Bulletin Board?" Chapter - Internet TAGSRWC